It is easy to say but to make the years rolling to this point is what keeps Newsimers at the edge of its game. Especially for us, we seek the battle field and by keeping the fight we can only know what winning means and ten years insinuated we were still at the edge of our game.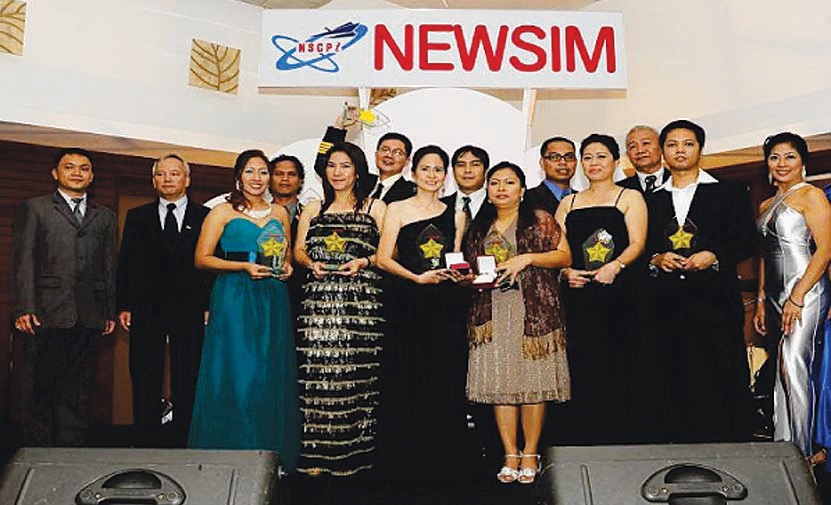 Newsim celebrated its 10th anniversary last December 8, 2010 at The Blue Leaf, Fort Bonifacio Makati. The vision was easy but how to materialize the event was the tough­est. You squeeze every knuckle, brains and fist to push people moving. Couple that with exhaustion at doing multi-tasking and lubri­cating smooth fluid operations equals down­right fatigue.
Yet, Newsimers knew nothing of this word by literally dancing their way down towards the stage. It was literally Newsim dancing moves. We danced with the music!
We also took the occasion to recognize the loyal employees who showed exemplary con­tribution to the company.
Newsim could not make it through the years without the support of our family, friends and of course our clients. It was only fitting for the team to honor our clients who con­tinuously avail themselves of quality train­ing services of Newsim. The awards were Sirius, Canopus, Barnard's, Arcturus, Vega, Capella, Rigel, Procyon, Achernar, and Be­telgeuse.
There were testimonials from two of our valued clients, Capt. Alfonso del Castillo of TSM Group and Capt. Ely Diaz of Cross­world who validated the levels of excellence in training thus affirming Newsim vision as "The Preferred Maritime Simulator Training and Assessment Center".
The unique and unpredictable character of each Newsimer came out just naturally. Who would say, that amidst unshaven and rugged exteriors out of their love for their work are hidden jades and gems like elegant person­alities all along were bursting to come forth. Truly, only Newsimers with the best and unique characters can produce historical im­pact to the Maritime Sector led by its own one in a million extra ordinary character of Capt. Reynold "Burt" Sabay speaks for itself for how its team works… experience not phi­losophy.
Then again, with all the glamour, pomp­ous preparations and delights galore, Newsim will always have its firm feet on the ground, and will be willing to die every moment upon tasting heaven and glory be­cause glory is in itself found only in serv­ing others in particular the Filipino nation and fellow seafarers. (By Arlene E. Concio, NewSim Journal).