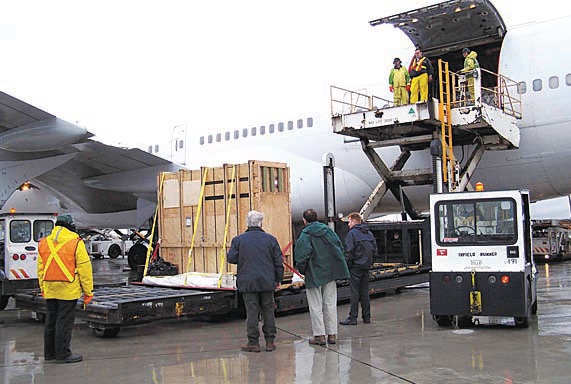 The data revealed that total traffic plummeted by some 32.723 million kilograms (kg) or 5.81% to 563.080 million kg from 595.804 million kilograms handled in 2009.
The data also added that Philippine Airlines, Cebu Pacific and PAL remain the top carriers of cargo.
The data also showed that cargo volume is highest in September 2010 totaling to about 58.429 million kg which is 28.8% higher than the 45.330 million kg posted in its year-ago level. In 2009, the highest volume was posted in December with 55.172 million kg.
Very good volume was also posted in the months of August, October, May, April and March wherein air cargo volume posted is more that 50 million kg.
Weak volume, however, were posted in November and December with an average of 19.389 million kg per month wherein the weakest was in November with total air cargo volume of only 19.189 million kg.
In the passage service, traffic slightly decreased by 0.17% for the pe­riod in review after accommodating 40.934 million domestic passen­gers compared to the 40.862 million passengers carried for the entire 2010 period.
In the service, the top carriers were CEB, PAL and sister firm PAL Express.
The highest volume of passengers in 2010 was posted in May with 4.542 million passengers while the lowest was posted in November with a total of 1.654 million passengers traveling.
In 2009, the highest volume of passengers was likewise posted in May with a total of 4.093 million while the lowest was posted in February with only 2.880 million passengers traveling.
Compared to their year-ago figures, cargo volume in May 2010 is higher by 10.9% while the lowest point in 2009 is also lower by 42.5% compared to the lowest point in 2009.
In 2010, airline operators—particularly international cargo carriers—said they were puzzled by the sudden slide in cargo volume in the last quarter of 2010 forcing them to revert back to their on-crisis level like using narrow bodied aircraft and flight frequency reduction.
This year, the airlines said they are very bullish about their prospects for the industry. However, they are now current reviewing their pro­jections brought about by the twin disasters hitting Japan and the po­litical conflicts clouting the Middle East countries.