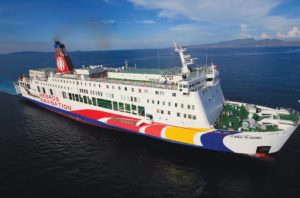 Domestic shipping giant Negros Navigation Co. (Nenaco) has purchased another vessel to further improve its fleet and maintain its lead over its nearest counterpart. The new vessel is also expected to increase the capacity of its passage sector as well as the capacity of its cargo sector wherein Nenaco is focusing at the moment.
According to Nenaco chair Sulficio Tagud, the new vessel that they acquired for $8.35 million will be named St. Michael the Archangel (SMA), which is a Ro-Ro/passenger (Ropax) vessel.
Tagud said they have also spent close to $3.6 million to refurbish and upgrade the facilities of the vessel to offer one of the best in the pas­sage industry while having enough capacity in its cargo haul.
"Our commitment has always been the same ever since the incep­tion of the company in 1932 and that is to provide better and in­novative services. We constantly strive to inconvenience ourselves for the absolute convenience of passengers and cargo clients" Tagud stressed.
SMA will be servicing two key routes with the first one being the Manila to Cebu- Cagayan de Oro- Iloilo-Bacolod and Manila every Thursday while the second route will be Manila to Bacolod-Iloilo-Cagayan de Oro-Cebu then back to Manila every Monday.
SMA boasts of a passenger capacity of 1,929 while its cargo decks can accommodate 190 twenty-foot equivalent units. It has a length of 150.8 meters and width of 25 meters with seven deck levels. It is supported by two sets of main engine with a combined power of 18,800kW.
SMA is also touted as a new generation Fun Ship of the combined Negros Navigation-SuperFerry fleet. It is replete with entertainment centers, an event hall that doubles as a disco and comedy bar, two din­ing areas, viewing cum entertainment deck, a coffee shop plus conve­nience stores that can service passengers any time of the day.
It is also being primed as a training ship with the creation of two con­ference halls complete with state of the art training facilities that be­comes a welcome addition since Negros Navigation and SuperFerry are both offering HRM, Tourism and Maritime trainings.
Nenaco, meanwhile, is setting aside about P2.5 billion in capital expen­ditures this year to expand its supply chain and logistics business. The purchase of SMA is part of its expansion plan for its logistics business.
For 2011, Nenaco is looking at a consolidated net income of about P1 billion which is a reversal of a net loss last year. In 2010, Nenaco posted a net income of P190 million while ATS booked a net loss of about P755 million due to limited vessel in operations attributable to the prolonged dry-docking.
Currently, Nenaco maintain at least 3 fast craft under the Cebu Ferry brand and another 8 fastcrafts including the two that services the Ba­tangas-Calapan-Batangas link while the remaining 6 were deployed in the Bacolod-Iloilo, Cebu-Tagbilaran and Cebu-Ormoc routes.