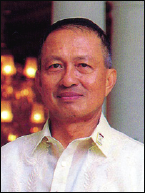 In the last issue we talked about the departure of the Philippine Navy contingent that was going to San Diego in connection with the PN's acquiring the USCG Cutter Hamilton and some concerns expressed by some in the PN forum interested in development of the Navy.
The update on this is that the PN contingent would take over officially on May 14, while the formal ceremony would take place in San Diego, California on June 1, 2011.
Personally, I think while the PN does not intend to join the arms race that apparently countries around have gotten into, still it is taking decisions that, although justifiable, keeps our own capability to build ships and other types of watercraft for the PN (and future export) continue to lack direction.
India, China and Thailand have ventured into aircraft carriers. China has the economic backing for a credible system – and some estimates give them 10 to 20 years to have something that they can use to counterbalance the US Navy (Not that I think they need to; Chinese and pro-Chinese (or anti-US) geopoliticists just think so). China, India, Indonesia, Thailand, Vietnam and Malaysia have or are going subsurface as well.
Of course, we realize that the ability to develop shipbuilding capability is primarily affected by economic factors. The richer countries are losing it for one reason – they are being priced out because of labor. The very poor countries (and we seem to be getting poorer in comparison with the neighbors) have to rely on export (as in the case of the Tsuneishi in Cebu and the Hanjin in Subic) because the shipping and ferry operators cannot afford the price of the ships and fast craft. The government cannot (and ideally should not) subsidize the industry but should as a matter of policy provide adequate incentives. These incentives may come in the form of: (1) Tax holiday or exemptions; (2) Low interest loans to shipbuilders for modernization and to ship- ping and ferry companies for purchase of bot- toms; and (3) Increased multiyear capital out- lay budget provisions for the Philippine Navy and agencies such as the Philippine Coast Guard, the PCGS and the Bureau of Fisheries and Aquatic Resources (BFAR).
I am extremely confident that we can spur growth of the shipbuilding and shipping industries through the three suggestions given – and ensure future modernization of the Navy and Coast Guard while developing our shipbuilding and shipping sectors.
Antonio Faustino of the Philippine Navy Forum in early May 2011 came out with this interesting comparison of vessel procurement:
Trade-offs of brand-new versus second- hand ship:
Brand-new 3,000 ton patrol ship = $100 million
Buy from ship abroad and repair/maintain same ship abroad = $ 100 million outflow or loss
Buy from abroad and repair/maintain same ship locally = $ 100 million outflow or loss – $ inflow from local repair
Buy ship locally = $ 100 million inflow • or gain – $ outflow to purchase machinery/parts available only from abroad Second-hand 3,000 ton patrol ship = $30 million ($ 10 million purchase + $ 20 million upgrades)
Buy second-hand ship and repair/maintain same ship locally = $30 million outflow – $ inflow from local repair
If Brand-new ship has 30 year life, and second-hand ship has 15 year life (conservative estimates):
Real price of brand-new ship in annual terms = 100/30 = $ 3.3 million in annual terms
Real price of second-hand ship in annual terms = 30/15 = $ 2 million in annual terms + more second-hand equipment repairs
Other factors to consider:
Available budget – if country simply has small budget, no recourse except second-hand ship especially if the requirement is for a big ship.
Combat survivability – commercial versus naval standards (a second- hand ship might be built to naval standards while the brand-new ship might be built to commercial standards or vice-versa)
Cost of crew/sailors – Brand-new ship might need fewer personnel due to automation while second- hand ship needs more personnel. In general, rich countries take into consideration cost savings from smaller manning levels of newer ships. This may not be too crucial for third world navies with lower pay scales of sailors.
Fuel expenditures, condition of machinery, stealth features and other modern features on modern ship versus second-and-ship – is the difference crucial or important? Or dependent of missions or the current situation?
Selection of available second-hand ship on the naval market – Choosing among available second-hand ships on the naval market needs a lot of thought with consideration to practical matters such as fuel consumption. gas versus diesel, condition of the hull, machinery, armaments, required annual maintenance costs, repairs/up- grades needed, political requirements and limitations imposed by selling country(e.g. possible arms embargo) etc.
Incalculable national pride from building ship locally.
Maybe we should workshop this matter in the forthcoming Maritime Conference.
Philippine International Maritime Conference and Exhibition
In the previous issue also I mentioned the plan to hold a Philippine International Maritime Conference and Exhibition, to be held in Manila, taking off from a proposal by Publisher Neil Baird of Australia, who is convinced of the bright future for Philippine shipbuilding. While that big event will not push through as originally envisioned, we have decided to take over the project, taking Baird "off the hook", so to say, as the primary convenor. We have down-scaled the project, but the outstanding development that came out of it is the entry into the picture of the House Committee on Transportation lead by its Chairman, Rep. Roger G Mercado, who has agreed to be co-convenor together with the Maritime League and the DOTC.
We will invite officials and industrial leaders to join our advisory group. I think it will be a great event.
By the time this gets in print, we would have had our second planning meeting for the event hosted by the House Committee on Transportation, at the Columbian Club in Paco, Manila on May 31, 2011.