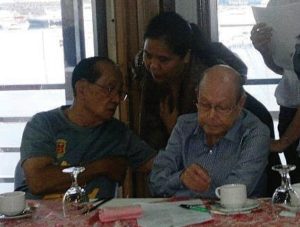 Aside from the opportunities in shipbuilding, former President Fi­del V. Ramos identified two more growth areas for the maritime industry—reclamation and smelting.
Speaking before the members of the Mari­time League as well as other invited guest in a breakfast forum recently, Ramos stressed that foreign counterparts are not needed in these projects as it can be done "All Pinoy".
"We don't need the Dutch to do the reclama­tion for us since we are very capable of doing it," Ramos said.
"We should put up our own reclamation com­pany 100% Filipino," Ramos, who served as President of the Philippines from 1992 to 1998, boasting that his administration was able to do it when they reclaimed 79 hectares of the Smokey mountain which is now occu­pied by Harbour Centre Port Terminals, Inc.
"Smelting is also one of the growth areas par­ticularly in the Cagayan de Oro area. Once we can have it running, we will be able to connect the country by rail as we will now be able to produce our own instead of importing everything," Ramos added.
As of the moment, there is a ready area within the Phividec Industrial Estate for the iron smelt­ing plant which is also adjacent to strategic ar­eas that needed to be connected by rail such as Davao, down to Cagayan de Oro and Butuan.
According to Ramos, it will be easier and cheap­er to transport export products from this areas using rail rather than the traditional land trans­portation before it will be ship out via ships.
He added that the Government need not shell out any amount for this as it can be bidded out to the private sector under the Build-Operate-Transfer scheme.
Meanwhile, it is all systems go for the 1st ever Philippine International Maritime Con­ference and Exhibition to be held at the World Trade Center on November 14-15, 2011.
President Benigno Simeon C. Aquino III leads the guests of honor during the open­ing ceremony, together with Department of Transportation and Communication (DoTC) Secretary Manuel 'Mar' A. Roxas II.
Former President Fidel V. Ramos will grace the second day of the conference and deliver a speech at the closing rites.
The world maritime confab is spearheaded by the Maritime League, a private maritime foundation headed by former Philippine Ports Authority (PPA) general manager Commo­dore Carlos L. Agustin (AFP, ret.) and House of Representatives transportation committee chairman Rep. Roger R. Mercado, co-chair of PIMCE organizing committee.
The two-day conference aims at pushing forth the country's capability to be a "strong maritime hub in the global shipping com­munity'," according to Agustin, also former commandant of PCG, and former president of the National Defense College (NDC). "For many years, the Philippines have been the top provider of seafarers. Now, it ranks fourth in shipbuilding in the world".
For online registration, participants are asked to visit PIMCE website http://maritimer­eview.ph/pimce-2011.