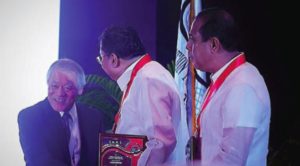 JX Ocean Co. Ltd garners yet another recognition. Fiipino Association for Mariner's Employment Inc. (FAME), as part of their 40th Anniversary's Culminating Activity, decided to recognize institutions that have shaped the Shipping Industry through their various contributions.
JX was commended for not only their continuous patronage of Filipino Seafarer's, but also their extra-ordinary contribution and investment on the industry.
JX, in cooperation with Virjen Shipping for more than 43 years has consistently developed free upgrading programs aimed at Crew and Cadet Development over and beyond the usual In-House Training Programs. JX Ocean Co. Ltd also supports industry projects and sponsors the education of Bridging Program for Mechanical Cadets. JX Ocean has participated and sponsored Crew Family Welfare Activities such as Livelihood Programs, Value Formation Programs, Regional Crew and Family Dialogues, and Loyalty Incentives.
Furthermore, JX Ocean Co. ltd has been active in giving back to the Filipino community. For Virjen Shipping Corporation alone they have provided a calamity fund for those who are affected by life changing natural disasters. They have donated significant amount of funds supporting the construction of a Community Center for the Yolanda Ravaged Areas.
They have likewise donated educational materials to indigent communities who lack resources. On their own initiative, they launched a medical mission in Leyte benefiting thousands of people affected by the Yolanda typhoon.
Ocean Co ltd. donated a simulator tanker equipment for use in training through PJMCC who conducts free training for Filipino crew manned by IMMAJ Vessels. JX Ocean Co. ltd is also involved in the upgrading of the Crude Oil Simulator Equipment through PJMCC.
Mr. Osamu Hasako, Director/Senior Vice President JX Ocean, accepted the "Pioneer and Outstanding Principal (40 Years of Partnership)" Award in behalf of JX Ocean Co. Ltd. Last March 19, 2015 in Polkabal Ballroom Manila Hotel.