On 17 November, US President Barack H. Obama visited the Philippine Navy's flagship, US-made BRP Gregorio del Pilar, the first US Coast Guard Hamilton Class 3,250-ton frigate combatant ship that was transferred to the Philippines in 2011. The second frigate was transferred in 2012, and named BRP Ramon Alcaraz. President Obama spoke with Captain Vincent Sibala PN (USNA'93) on the bridge, and later toured the BRP Gregorio del Pilar.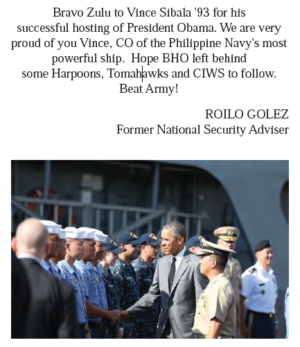 According to DefenseNews.com, "Obama's move risks irking China, which is embroiled in a bitter territorial row over the South China Sea with the Philippines and some of its other Asian neighbors.
President Obama aboard Air Force One landed at Villamor Airbase. Eurasia Review stated that Obama had landed in the Philippines after attending the Group of 20 Summit of leading nations in Turkey. While in Manila, Obama attended the APEC 2015.
Below are President Obama's remarks after touring BRP Gregorio Del Pilar, courtesy of the White House.
"Good afternoon, everybody. It is wonderful to be back in the Philippines. And I want to thank Secretary Gazmin, General Iriberri, Rear Admiral Alano and Melad, Captain Sibala, and the members of the Philippine Armed Forces for welcoming me here today. I want to acknowledge the American service-members who are here and who are part of our unbreakable alliance.
The United States has been committed to the security of this region for more than 70 years. We have a treaty obligation, an ironclad commitment to the defense of our ally, the Philippines. You can count on the United States.

My visit here underscores our shared commitment to the security of the waters of this region and to the freedom of navigation. This watch center was built with U.S. grants. The ship that I just toured, a former U.S. Coast Guard vessel, helps the Philippines respond to disasters, perform counterterrorism missions, and patrol the South China Sea.

Today, I can announce that we intend to transfer two additional ships to the Philippine Navy, a research vessel to help map its territorial waters, and another U.S. Coast Guard cutter to bolster the Navy's ability to conduct long-endurance patrols. It's part of our larger plan to increase maritime security assistance to our allies and our partners across the region — $250 million over the course of two years. More capable navies and partnership with the United States are critical to the security of this region.

And I want to thank once again the members of the Philippine Armed Forces for their outstanding work. And, Mr. Secretary, I can tell you that after inspection, the ship looks like it's in tip-top shape. Thank you so much."
Josh Lederman and Kathleen Hennessey of the Associated Press reported that "Obama said the pair of ships — one U.S. Coast Guard cutter, one research vessel — were part of a broader American plan to scale up assistance to naval forces in Southeast Asia, where coastal nations feel threatened by China's aggressive moves to assert control over the South China Sea. Obama said the U.S. had an "ironclad commitment" to the Philippines — a U.S. treaty ally — and a mutual commitment to free and safe navigation at sea."