The Philippine Coast Guard (PCG) hosted the 105th MBF, led by RADM. WILLIAM MELAD on behalf of VADM.RODOLFO ISORENA, and was held on 18 September 2015 at the Hub, Rizal Park, Ermita, Manila.
LCDR. NHEA VICTORIA VERGARA PCG described the MB KIM NIRVANA SINKING accident. The motorbanca departed Ormoc on 15 July bound for Pilar, Camotes, Cebu. There was a low pressure area estimated 560 kms east of Legazpi City embedded within the ITCZ across the Visayas. The boat was just off the pier when it capsized 250 meters away.
PCG Actions: Conducted immediate search and rescue; relieved PCG officers deemed responsible and subject to result of investigation; sent out maritime safety advisories to all PCG Districts, and Stations; assisted PNP file charges against ship-owner and crew; and investigated the maritime casualty.
PCG Instructions: Reiterated mandatory wearing of lifejackets for all motorbancas with/without outrigger; checking motorbanca's loadline marks; reiterated guidelines for video recording during pre-departure inspection; and reiterated strict enforcement of PDI.
PCG investigation of causes of the accident: Faulty maneuvering of the vessel; subsequent shifting of cargoes; poor vessel construction; excess persons on board; and various discrepancies were noted.
Recommendations: Review the Design and Seaworthiness of wooden-hulled vessels; separate Rule on Stability Calculation and Construction; establishment of Crowd Control System and Ticketing System in sea ports with motorbancas operating therein; Enhancement of VSEI training in CG Stations and Sub-stations.
Rex Munsayac (ONICONSULT) asked for details on tonnage and capacity of the MBCA KIM NIRVANA. COMMO. FRANCISCO TOLIN of Maritime League suggested to ask MARINA for information; why they approved the ship's plan; and suggested they review all discrepancies. COMMO. TOLIN stated that wooden hull crafts are covered by IMO rules and may be allowed for smaller tonnage. The Chair said material strength must be included at inspection by classification societies or certifying authorities to ensure unbroken outriggers.
CDR. WILLIAM Q. ARQUERO PCG provided information on National Service Training (NSTP) Civic Welfare Training Service (CWTS) Program. A Memorandum of Agreement was executed by PCG with the Commission on Higher Education (CHED) in June 2012; CHED approved the Program of Instruction for NSTP students. There are four (4) Modules with PCG-specific functions: Disaster Risk Reduction and Management Awareness; Environmental Protection; Leadership Training; and Community Services.
CAPT. TEOTIMO BORJA PCG gave the history behind the National Maritime Week (NMW) citing the various issuances. The most recent Presidential Proclamations No. 1560 of 2008 designates MARINA, PCG, PPA/CPA to alternately lead the NMW celebration and delineate authority to plan, organize, promote and engage the maritime sector and industry stakeholders to collectively undertake the national celebration. CAPT. BORJA enumerated all the government agencies involved, those in the private sector, partner associations and sectoral organizations. The attendees lauded the PCG and the many agencies and organizations involved, for the exhaustive nationwide program. It is really an "all hands evolution," as some attendees commented.
Maritime concerns relating to Bangsamoro Basic Law (BBL): The Chair introduced PROF. JAY BATONGBACAL, Director of UP Institute for Maritime Affairs and Law of the Sea (IMALOS), as one of the foremost experts in Maritime and Ocean Affairs and Law of the Sea in the Philippines and internationally. Prof. Batongbacal discussed the "Legal Geography of the Proposed Bangsamoro Waters." He discussed the legal basis of geographic boundaries, and primary territorial jurisdiction: civil/criminal jurisdiction; administrative jurisdiction; tax/revenue jurisdiction; and new Bangsamoro Region as a territorial space, and as functionally divided.
Prof. Batongbacal presented maps showing added water boundaries to "Bangsamoro," zones of "joint cooperation," and the "New Bangsamoro Region" comprising land plus sea, a potential wealth-sharing resource with specific management responsibilities.
However, he was quick to emphasize that the latter are not entirely exclusive prerogatives because of shared and reserve powers of the national government as well as the maritime rights of the international community. Thus, there are significant resource management challenges. Wealth sharing within the Bangsamoro Regional (BR) Waters are indicated as: National taxes/fees/charges 25(CG)/75(BR); GOCC, FI, Ecozone, freeport income 0/100; Natural resources revenues: Non-metallic 0/100; Metallic 25/75; Fossil fuels and uranium 50/50. He discussed issues for consideration, such as: Effects on different wealth-sharing formulae in Local Government (LG) Code; Mining Act and Offshore Petroleum Act need to clarify or specify computation formulae; different regimes for different resources; how a BR share that "includes" LG shares may become a bone of contention; and the Indigenous People's Rights Act's ancestral domain on ancestral waters and royalties.
Prof. Batongbacal stated that the issues on Zones of Joint Cooperation (ZJC) include transportation between Sulu, Basilan, Tawi-Tawi, and the mainland passing thru ZJC is considered as intra-regional routes; and issues between Bangsamoro people and other indigenous people in adjoining provinces wherein resident fisheries have preferential rights over fishery resources in the ZJC.
With regard to potential mineral and petroleum areas, Prof. Batongbacal opines that issues for consideration include the current petroleum exploration impeded by relatively slow contract approval, multiple local permit/clearance requirements, and LGU demands, where additional layers may discourage investments. Petroleum exploration in multiple-use marine spaces is temporarily displacing other activities in which closer agency coordination is needed. Foreign markets as primary target may need to be considered.
In the case of fisheries, he suggested that Bangsamoro waters are intensively fished by both domestic and foreign fishers, a free-for-all situation showing a need for enhanced law enforcement action/assets. Additionally, fishing in the area straddles Bangsamoro Waters and other waters, thus we must ensure compatible laws.
There is also a need for Marine biodiversity protection across multiple boundaries, for an agile mechanism for integration with national agencies (e.g., National Integrated Protected Areas; Key Biodiversity Areas)
and Malaysia (near Turtle Islands), and for reviewing funding and capacity issues; risks associated with shipping is concentrated in maritime "choke points" that requires application of international conventions and standards. The  lack of accessible ports should be addressed and traditional marine transportation activity must be managed hand- in-hand with modern activity.
Prof. Batongbacal said there is a need for a solution to the lack of adequate coverage for maritime security surveillance, requiring closer maritime cooperation and coordination between Coast Guard and Border Guards. He said the Sulu Archipelago acts as a maritime corridor between Philippines and Malaysia thus National government security should be harmonized with BG security. COMMO. TOLIN commented that Indonesia and Malaysia are encroaching in the area down to Mangsee and that the PCG should safeguard the area in the interest of the Philippines.
COMMO. DELA CRUZ queried about a Manifesto where some retired generals and flag officers are objecting to the BBL which is politically driven to solve the problems in the South. COMMO. AGUSTIN stated that the Manifesto is not obstructing the peace process. They want peace, but not at any price. The government must consider every proposal of the people in the area, which the Panel and the OPAPP have overlooked. There is the constitutionality issue. Also, those who prepared the Manifesto had meetings with the Peace Panel Chair (Prof. Miriam Ferrer) and PAPP (Sec. Ging Deles), presented its paper to the House and Senate Committees, met with PHILCONSA, and jibed its position with it. The Chair stated that if the BBL would be approved "as is," it will not lead to peace; it will make the MILF stronger, and the AFP will have more difficulty suppressing it if violence erupts again.
RADM. MELAD said that the PCG will have difficulty in the implementation of the law if BBL will be passed without amendment. LCDR. SALIMBANGON commented that the Navy would be affected especially in Zamboanga del Sur since almost all assets are deployed there. MILF is still active, yet a government directive to halt any operation with the MILF is in force.
Before the MBF 105 session concluded, Ms. Elizabeth Bun of MARINE PHILIPPINES 2016 invited the attendees to attend or join the 2016 marine exhibit.
The Environmental Management Bureau led by Director ROLANDO CASTRO, DENR Administrative Services, hosted the 106th MBF and was held at DENR, Diliman, QC on 23 Oct 2015.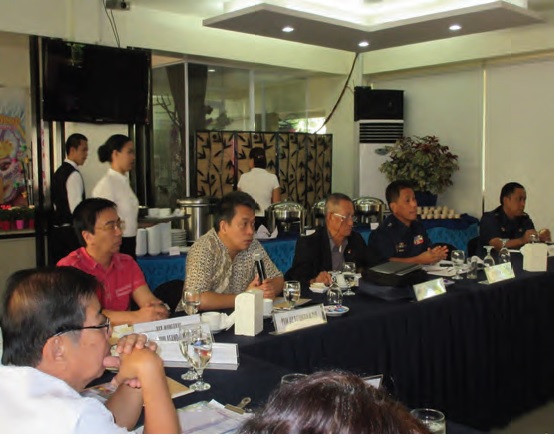 Ms. CECILLE MURILLO made available the publication on "Climate Change Adaptation in Coastal Communities" to the attendees. She covered the basics of Climate Change, presenting various statistics and research findings related to the effects of other natural and man-made causes to environmental degradation that we face today. She discussed the risks to disaster as a result of climate change, mainly affecting health, well-being and safety of mankind. She presented our government response based on the Climate Change Act, the key enabling policies, public-private partnerships, and the Project funded by the Norwegian Trust Fund with the World Bank. She described the ecosystembased approach to climate change adaptation, including building climate-resilient livelihoods, and showed some climate change adaptation initiatives.
Recommendations: Use traditional local knowledge to address climate risks and disasters, resource management, and other adaptation efforts; Cultivate climate smart agriculture and a livelihood-diversified economy; increase climate governance, knowledge sharing, and community engagement; Adopt an ecosystem based local development; Build climate smart infrastructure in buffer zones; restrict resource extraction and development in conservation areas; Increase adaptation competence of LGU and village level officials and planners to make them cognizant of climate change and disaster management; Adopt a sciencebased, adaptation-centered, participatory approach to decision-making at GU and village government levels.
LT. LOREN JASMINE LERION of CGD, NAMRIA presented the current marine activities of NAMRIA, all under the Coast and Geodetic Survey Department.
Director ALAN PINEDA, PAGASA, discussed the modern technology of remote sensing in getting inputs for acquiring sea state conditions and for forecasting purposes, through the use of High Frequency radar. Some participants commented that prior systems used statistical information to generate forecasts which are then transmitted to end-users, i.e., commercial shipping, fishing and the military (PN and PCG), but ships were still required to report back on actual sea state, that are then collated and statistically analyzed.
Director L.V. DE GUZMAN, MOAO DFA, gave a brief update on the West Philippine Sea (WPS) particularly on the legal case with the Tribunal, and cited the initial victory of the Philippine case. Before the forum ended, CDR. IVAN ROLDAN PCG gave an update on the situation in the WPS area from reports gathered by HPCG. This includes disposition of China Coast Guard and other Chinese vessels and watercraft in the various shoals and development areas.