As predicted and highlighted since early January, there is now an emerging confluence of important developments in the Philippines, in the Asia-Pacific region, and also around the world in terms of global security and well-being of Mother Earth's people. While this series of current and forthcoming events may be seen as serious setbacks to the administration of President Benigno S. Aquino III, there are outstanding challenges emanating therefrom that our five Presidential hopefuls and their respective teams should tackle starting now, and plan for strategically, and then convert these into transformational achievements or even worthwhile legacies of the next President. Some challenges are more urgent, and need to be acted upon.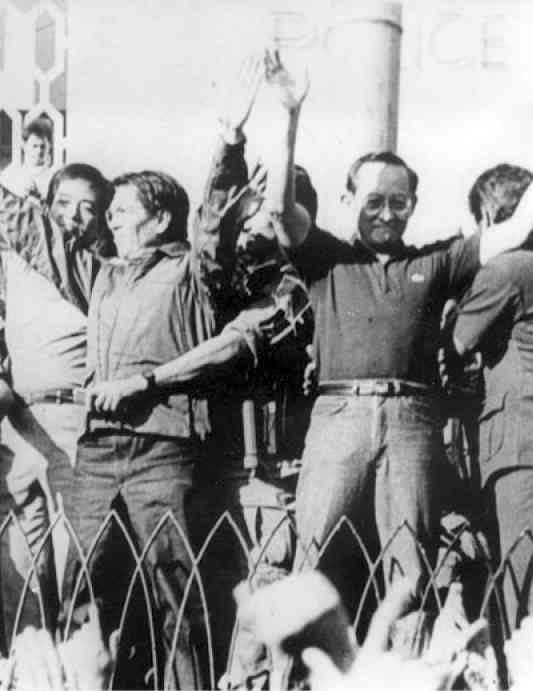 Present/Ensuing Challenges for Leaders:
Unresolved peace process and continued violence and suffering in Mindanao, to include water and electric power shortages, plus mass poverty;
Failure of Congress to pass important reform laws principally the BBL, FOI, SSL, Reduction/ Rationalization of Taxes, SSS Enhancements, TPP Access, PPP Policies, etc.;
Controversial 2016 national budget with "hidden" possibly "pork barrel" funds, plus corruption and cronyist issues due to patronage politics;
Aggression (read: "bullying") by China and by the stateless Islamic terrorists like ISIS;
Nuclear threats by North Korea;
Massive dislocations and casualties due to international terrorism;
Climate Change, El Niño, Inundation, Super typhoon, Volcanic tremors/eruption, etc.; impacts on  agriculture, health, industry, infrastructure, and habitats;
Emerging global recession manifested by worldwide stock market declines, loss of oil-industry jobs &  assets due to steep price reduction, widespread economic uncertainties; and
Spread of pandemic diseases.
The 30th EDSA Anniversary
In the renewed nationwide solidarity that burst to the forefront during those four pulsating days at EDSA in February 1986, Filipinos redeemed the sacrifices of our departed forebears and fallen heroes by regaining our birthright of freedom, justice, and national pride. We became united in our fortitude and determination, not merely to throw out an authoritarian regime that failed to govern democratically, but also to win a better future.
Today, 30 years later, we who were there realize that EDSA Uno has a much deeper meaning. Filipinos were galvanized to direct their actions by a deep desire to reestablish a society of human dignity and liberty, in a land not torn apart by strife and at peace with itself, with a representative democratic government that is effective/ accountable, and an overall dynamic, competitive and bountiful nation.
Today, our collective hope still holds that from EDSA we learn valuable lessons of Unity of purpose, Solidarity in values, and Teamwork in nation-building (U-S-T).
To most, it may seem paradoxical that it is the soldier/policeman who yearns for peace more than others because our public servants in uniform and their families know from firsthand experience the cruelties of war and violence – what sufferings are inflicted upon combatants, their loved ones, and innocent civilians caught in the crossfire.
EDSA was not a one-day event, neither just a four-day phenomenon. EDSA straddles several generations of heroic struggle. EDSA is a continuing revolution – an unfulfilled vision that Filipinos must win without further delay. Its most significant result was the God-given opportunity to infuse our people with a strengthened resolve in progressive nation-building.
Our Sacred Freedom Trail: Pugad Lawin, Bataan, EDSA
Since becoming a nation 117 years ago, Filipinos have strived to live in independence and freedom, and win for ourselves spiritual well-being, material prosperity and a place of respect in the community of nations. Filipinos should take great pride in that the collective power of common people and our spirit of EDSA touched off similar uprisings for political liberation and human justice around the world in recent years.
At Pugad Lawin in August 1896, Andres Bonifacio and the Katipunan triggered the Philippine Revolution, and Emilio Aguinaldo declared our independence from Spain in June 1898. As Jose Rizal visualized in his essay, The Philippines A Centenary Hence – "The new Filipinas would generate a breed of Filipinos who would derive energy from their pre-colonial past. They would create a future by their labor; work the land, the mines; and revive the maritime and trading skills of their forefathers. They would be strengthened by a recovery of their old virtues, and ultimately attain a prosperous and independent existence."
This brighter future is shared by generations of Filipinos – living and dead – who fought for freedom, dignity and prosperity. Three defining beacons in Philippine history should guide Filipinos: the revolutionary Spirit of 1896 at Pugad Lawin; the patriotic Spirit of 1942 at Bataan and Corregidor; and the liberating Spirit of 1986 at EDSA.
The fall of Bataan on 09 April 1942 was memorialized in this stirring tribute by Captain Salvador Lopez – later U.P. President and Secretary of Foreign Affairs: "Bataan has fallen. We have done all that human endurance could bear. What sustained us was a force more than merely physical. It was the force of an unconquerable faith. It is the thought of native land." These patriotic sentiments sparked the nationwide guerrilla resistance throughout the Philippines from 1942 until liberation from Japanese occupation in August 1945.
Responsible Citizens, Responsible Governance
The spirit of EDSA, therefore, reminds Filipinos that we, too, can live the lives of heroes by being responsible citizens who, in their daily work, contribute to community.
Welfare and Nation-Building
Courageous citizenship is not measured by heroic acts alone. A nation needs not only enlightened leaders, but also responsible citizens – who protect the environment, pay taxes, obey laws, vote wisely, help the needy, raise quality families and, above all, love our Philippines.
EDSA has taught us that responsible citizenship means caring for others, sharing what the almighty has given us, and daring to attain a better future for country and people. These values are especially required of those who govern us.
Unity, Solidarity and Teamwork
We see today the evident lack of interest, much less enthusiasm, in our 30th Anniversary Celebration of EDSA. This is deplorable and inexcusable for officials elected to positions of responsibility in government. Those who were direct participants in the events of February 1986 – millions of audacious civilians and the rebel military – would have wanted to see our 30th EDSA Anniversary devoted to nation-wide thanksgiving and people empowerment activities.
To name a few: teaching younger Filipinos the true meaning of EDSA through programs and other educational opportunities; agricultural and job fairs; SME exhibits; sports competitions; bonding in military camps between civilians and soldiers/ policemen; patriotic historical recollections. All these should be undertaken consistently in all provinces, cities, and towns – as we used to do during the years 1987 to 1998.
Unfortunately, those who continue to be cynical of the EDSA experience say that the Spirit of EDSA has been lost. Let us now reach out to them – despite their narrow, shortsighted attitudes – to join in our people's aspirations to move our blessed Philippines faster forward and to take the lead.
Yes, caring, sharing and daring Filipinos won the struggles at EDSA Uno in 1986 and EDSA Dos in 2001, but we have yet to overcome – through our U-S-T – the sins of poverty, inequity, lawlessness, injustice, and corruption.
God's Presence
Many people who took part in the EDSA Uno revolution will attest that God's presence at that particular time and space was almost palpable. In the quiet of their hearts during those uncertain days, they had silently offered their lives to God for our country's well-being. Out of that shared experience at EDSA came a sense of unity that we all wish we could permanently recapture. Unfortunately, individuals and nations cannot always be on a "high." Life cannot realistically last that long at the loftiest heights.
We must come down from the mountain and face the daily challenges of living, as we go about our routine tasks and the normal duties of common citizens – being good at whatever we do, and doing it with dedication and commitment.
We all know these virtues to be essential, but we need to remind ourselves of them, to revitalize the Spirit of EDSA within ourselves and among others, to renew our pledge of service to the nation, to rise once again above self, to work for the common good.
EDSA showed that Filipinos want to live in freedom and peace. We want to see justice done, and the rule of law respected. We want to bring up our families with decency; to be secure in our homes, workplaces, and in the streets. These are all simple, but unifying aspirations. When we neglect them, we degrade what is best in ourselves, we betray the Spirit of EDSA, and we fail to faithfully serve God, country, and people.
The annual celebration of our People Power Revolution gives us the opportunity to reflect on its true meaning, and to apply the Spirit of EDSA in serving the nation. Years after the miracle at EDSA, we cannot afford to be uncaring. We experienced a miracle, and watched it unfold – not just once, but twice. Let us, therefore, implore the good Lord – who seems to have special compassion for Filipinos – to enable us to pursue our aspirations for a better future with unswerving determination.
But let us remember that we must perform as we pray, and pray as we perform! "Nasa Diyos and awa, nasa tao ang gawa! Kaya natin ito!"