The first of a series of three ASD TUGs 2810 Hybrid was navigated into the Den Helder Harbour by the Royal Netherlands Navy (RNLN) on February 20th. This hybrid tug boat that bears the name Noordzee is almost 29 meters long and is the first standard hybrid tug supplied by Damen Shipyard to the RNLN.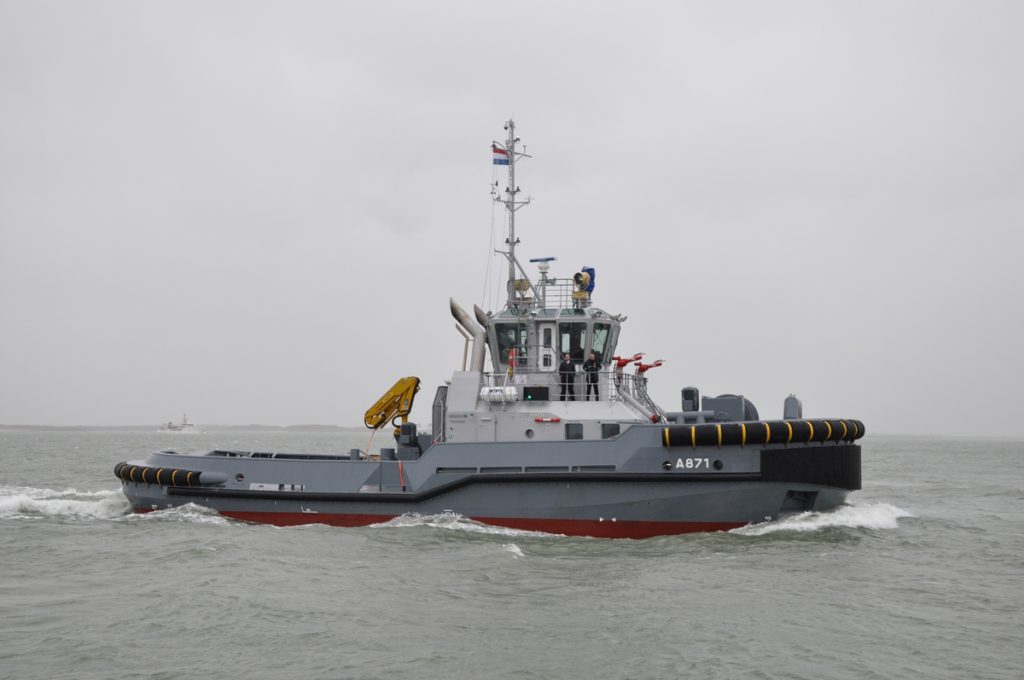 The contract for three ASD tugs highlights the good cooperative partnership between Damen and the RNLN, but more importantly, their shared vision. Both parties believe in a durable future, and the RNLN has thus chosen the sustainable option to go with the ASD TUG 2810 Hybrid.
Power and Sustainability
At present, the RNLN has four conventional tugs at Den Helde. However, these are older vessels and do not have sufficient power to tug new ships such as the HNLMS Karel Doorman, HNLMS Rotterdam and the HNLMS Johan de Witt. Furthermore, the old vessels still use normal propellers with rudders that come with a restricted maneuverability, and thus no longer have the sustainability level that RNLN seeks for the future.
But with a hybrid propulsion system, the ASD TUG 2810 is both powerful and durable. The vessel is provided with two rudder propeller units for optimum maneuverability, and is able to sail on full electric propulsion by means of two 120 KWh battery packs with a sailing speed of up to 4.8 knots; and also on diesel-electric propulsion on the generator set with a sailing speed of up to 8.7 knots. When full pull is required, two main diesel engines are used, giving a maximum bollard pull of 61 tonnes at sailing speed of up to 13.2 knots, ensuring that heavy duty tug jobs can be performed effectively.
Hybrid as a Standard
The RNLN was explicitly looking for a standard tug that was both very environmentally friendly as well as powerful enough to perform heavy operations. The RNLN contracted Damen for the project because hybrids and sustainability are standard design concepts for Damen. To-date, the RNLN, in cooperation with the Swedish Navy, has ordered five vessels, including the hybrid tugs. The two additional Swedish tugs are also of a standard design, but designed for operations in icy waters.
The Noordzee was sailed by the RNLN from Damen Shipyards Galati in Romania to the port of Den Helder in North Holland. The two other hybrid tugs, Waddenzee and Zuiderzee, will be delivered in mid-March and mid-June.
Damen Shipyards Group
The Damen Shipyards Group operates 32 ship-and-repair yards, employing 9,000 people worldwide. Damen has delivered more than 5,000 vessels in more than 100 countries and delivers about 180 vessels annually to customers worldwide. Based on its unique, standardized ship-design concept, Damen is able to guarantee consistent quality.
Damen's focus on standardization, modular construction and keeping vessels in stock leads to short delivery times, low 'total cost of ownership', high resale value and reliable performance. Furthermore, Damen vessels are based on thorough R&D and proven technology.
Damen offers a wide range of products, including: tugs, workboats, naval and patrol vessels, high speed craft s, cargo vessels, dredgers, vessels for off shore industries, ferries, pontoons, and super yachts.
For nearly all vessel types, Damen offers a broad range of services, such as maintenance, spare parts delivery, training, and transfer of shipbuilding knowhow. Damen also offers a variety of marine components such as nozzles, flap-type rudders, steering gear, anchors, anchor chains, and steel works.
In addition to ship design and shipbuilding, Damen Ship-repair & Conversion (DS&C) offers a network of 15 repair & conversion yards worldwide, with dry docks ranging up to 420×80 meters. Conversion projects range from adapting vessels to today's requirements and regulations, to the complete conversion of large off shore structures. DS&C handles 1,500 repair and maintenance jobs annually.