On the first of June 2016, Transas completed the installation of Scotland's most advanced integrated ship simulator suite in the City of Glasgow College, the country's largest college. The simulation solution from Transas forms a core part of the new Riverside Campus, Phase One of the City of Glasgow College's super campus development.
The installed simulator suite includes a full mission engine room simulator and four simulator labs for studying electronic navigation systems, GMDSS, liquid cargo handling, and DP operations.
There are also five ship handling simulators comprising four bridges with 135º degrees visualization and a 360º full mission ship handling simulator for advanced training and certification.
Transas worked with the City of Glasgow College and their building architects to ensure that the new facilities meet all of the college's requirements for the next 15-20 years.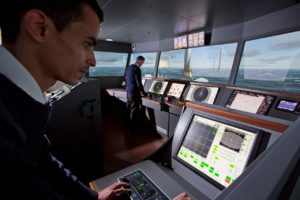 Iain Marley, Project Director of City of Glasgow College, said: "Scotland has a strong maritime history and now 10,000 students a year will benefit from this investment at our Riverside Campus, and will continue and build on that proud tradition. The simulation suite allows our students to have a highly realistic experience of operations including navigation, engine room handling, and cargo handling activities within a wide range of ship types. This leading edge technology and hands-on experience of nautical chart rooms will provide advanced and innovative training which will enhance the skills and future employment prospects for cadets, and likewise for the more experienced officers and crew."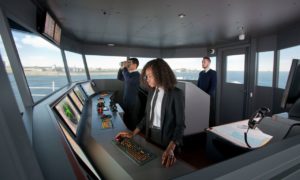 Transas carries a vision to lead the way in creating an ecosystem of harmonized integrated solutions in safety, navigation, and ship operations. In creating these solutions, Transas unites global maritime stakeholders for e-Navigation and operations.
True to its vision, Transas has introduced THESIS, or Transas Harmonized Eco System of Integrated Solutions, a flexible data resource where Ship, Fleet Operations, Academy (simulation & training) and Ship Traffic Control can all be connected to the ecosystem, a community working together effectively on a cloud-based shared data platform to enable smarter operations, safety, and navigation.
United into a single environment, the navigation, simulation, vessel traffic, and fleet management systems become a decision support tool using the data provided by Transas software solutions.
Transas operates over 20 regional offices, and has a global network of partners around the world.
For more information, visit www.transas.com.
 icon-anchor