Climate Change is the long-term change in the earth's global or regional climate patterns that began particularly in the mid to late 20th century and onwards.  Research attributes climate change largely to the increasing levels in the average atmospheric carbon dioxide produced by the use of fossil-based fuels by humans. It takes place in small gradual changes in temperature that includes warming and cooling, but can cause a long-term shift in the planet's weather patterns or average global temperatures. The Conference of Parties (COP21) agreement reached in Paris at the end of 2015 by 195 countries that ratified the UN Framework Convention on Climate Change (UNFCCC) in 1992 at the Earth Summit in Rio de Janeiro, is set to ensure global warming stays below 2ºC, and to pursue efforts to limit the temperature rise to 1.5ºC. The Philippine Atmospheric, Geophysical and Astronomical Services Administration (PAG-ASA) reports that the current global temperature has increased to 0.74ºC.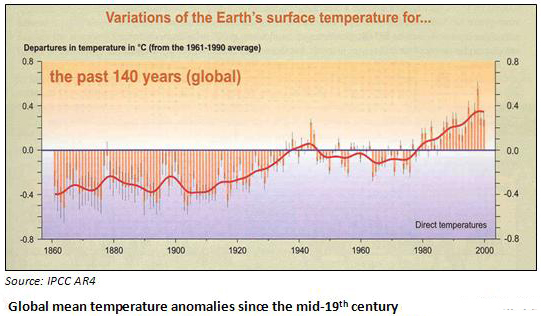 Gases that trap heat in the atmosphere are called greenhouse gases (GHG).  These are carbon dioxide (CO2), methane (CH4), Nitrous Oxide (N2O), and Fluorinated gases.  In 2015, the PBL Netherlands Environmental Assessment Agency Report indicated the top 4 emitting countries or regions, which together account to 61% of the total global CO2 emissions are:  China (30%), United States (15%), European Union [EU-28] (10%), and India (6.5%).  The UN's IPCC chart below shows the temperatures during 1860-1940's below the global mean, in contrast with the increasing temperatures during 1960's-2000 rising above the global mean.
Pag-Asa also reports that in 2007, the UN's Intergovernmental Panel on Climate Change (IPCC) report made its strongest statement on climate change in its Fourth Assessment Report, when it concluded that global warming is unequivocal, and most of the warming during the last 50 years is due to the observed increase in GHG concentrations from human activities.  It is very likely that changes in the global climate system shall continue, and that these changes would be larger than those seen in the recent past.  The IPCC report further states that the substantial body of evidence includes rising surface temperature, sea level rise, and decrease in snow cover in the Northern Hemisphere. According to VAdm. Emilio Marayag AFP (Ret), a widely known impact is the melting of ice caps in the Arctic but a lesser-known fact is the Carteret Island of Papua New Guinea that was forecasted to fully submerge by 2015 amidst fast rising sea levels. The 2000 Carteret inhabitants who left their island for good are the first official refugees of global warming.
Based on the Emissions Database for Global Atmospheric Research (EDGAR) of the European Union, Table 1 shows all the countries in this Southeast Asian group decreased carbon emissions growth since 2000.  In particular, the Philippines' carbon emissions growth decreased to 29%.  The global carbon emissions growth decreased by 18%.  However, as % of the Rest of the World, the Philippines' emissions growth increased by .08%, from 0.19% since 1990 to 0.27% since 2000, but at a much lower growth than Indonesia, Thailand, Malaysia, Vietnam, and Bangladesh.
Table 2 shows that, except Papua New Guinea, all the countries in this group reduced carbon emissions per capita growth since 2000.
Table 3 shows that the growth of Philippines' CO2 emissions by GDP decreased by 23%, from -13% since 1990 (the base year of the Kyoto Protocol) to -36% since 2000.  While most of the countries in the group reduced growth of carbon emissions by GDP since 2000, only Singapore's and Papua New Guinea's emissions growth by GDP have increased.
Table 4 shows many Southeast Asian countries decreased or slightly increased/maintained GHG emissions as % of Rest of the World.  Global GHG emissions growth decreased by 18% since 2000.  However, Philippines' GHG emissions increased by .06%, from 0.25% in 1990 to 0.31% in 2012; emissions also increased in Thailand, Vietnam, and Cambodia.  GHG emissions of China (30%), and India (6.5%) are much higher than the rest of Asia.  In terms of International Shipping, global GHG emissions grew by 0.26% in 2012.
Table 5 shows Philippines' GHG emissions per capita growth decreased to -10.4% since 2000 in contrast to global emissions growth that increased by 9% during the same period.  However, as % of Rest of the World, while Philippines' emissions increased by 2% in 2012, most countries in this group decreased emissions substantially, except Thailand and Vietnam.
Victims of climate change are not only the poor farmers in low-lying coastline areas subject to sea level rise but also city workers who would have to endure the heat waves.  British firm, Verisk Maplecroft, predicted in October 2015 that the biggest drops in labor productivity in Southeast Asia would be in Singapore (25%), Malaysia (24%), Indonesia (21%), Cambodia (16%), Philippines (16%), Thailand (12%), and Vietnam (12%).  "Climate change will push heat stress impacts to boiling point with significant implications for both national economies and the health of vulnerable workers," said James Allan, Environment Head, Verisk Maplecroft.
Climate Change in the Philippines.
The temperatures in the Philippines area of responsibility have slightly increased. The mean temperatures during 1951-2010 indicate an increase of 0.648ºC or an average increase of 0.0108ºC annually. Pag-Asa's analysis of extreme daily maximum vs. minimum temperatures (hot-days vs. cold-nights) show an increasing number of hot days, and a decreasing number of cool nights, as statistically significant.  During the last 60 years, the maximum vs. minimum temperatures have increased by 0.36ºC vs. 1.0ºC. The analysis on tropical cyclone passage over the three main regions — Luzon, Visayas and Mindanao — reveals a slight mean average increase in the Visayas region from 1971-2000, as compared with the past periods.  An analysis of trends of tropical cyclone formation or passage within the Philippine area shows that an average of 20 tropical cyclones form or pass through the area annually, but with no indication of an increase.  However, there is a very slight increase in the number of tropical cyclones with maximum sustained winds of greater than 150kph at typhoon-level category being displayed during an El Niño event.
Mitigation and Adaptation.
The ultimate global objective is to stabilize GHG concentrations in the atmosphere to a level that will prevent danger to humans and the planet as a whole.  Otherwise, an increase in water-based diseases, pulmonary illnesses, and cardiac diseases are likely to be the major health risks.  Reducing GHG emissions from human activity includes a reduction in fossil fuel usage, in individuals, corporate or industrial operations, and land degradation.  Altogether, the reduction of GHG emissions is called Mitigation.  Reducing the adverse impacts of climate change while taking advantage of its potential benefits is called Adaptation.
The World Bank Group's Climate Change Action Plan 2016-2020 "sets ambitious targets in high-impact areas, including clean energy, green transport, climate-smart agriculture, urban resilience, and in mobilizing the private sector to expand climate investments in developing countries.  Globally, the poor will be at high risk because of climate-related shocks such as crop yield losses and the consequent high food prices.  Floods, droughts, sea-level rise, threats to water and food security, and the frequency of natural disasters will intensify, threatening to push 100 million more people into poverty in the next 15 years alone."
In the Philippines, GHG emissions are far lower than China's or India's emission levels. Nevertheless, the Philippines has room for Mitigation to improve or contribute towards reducing the effects of global emissions in the world mainly through renewable energy, large scale tree planning, agro-forestry, rational forestry management, and by avoiding forest fires. On an individual or family-unit level, the reduction in usage of fossil-based fuel in everyday activities is possible by using hybrid cars; or cooking food using gas instead of briquettes because gas emits fewer CO2emissions than charcoal.  The Oak Ridge National Laboratory finds that gas grills generate 5.6 lbs of CO2/hour, while charcoal grills generate 11 lbs of CO2/hour; or the use of solar roof panels as source of electricity.
Due to the extensive coastlines covering more than 36,289 km, the Philippine coastal resources are highly vulnerable. Low-lying islands would face constant deluge due to sea level rise. The combined effects of changes in temperature, rainfall resulting in droughts and floods, sea level rise, tropical cyclones, and storms would expose coastal areas to higher levels of hazard to life, labor, and land. Livelihoods of poor coastal communities are at risk, particularly in fishing, the poisoning of crops, and loss of productive agricultural lands due to saltwater intrusion. Adaptation planning for the coastal areas is, therefore, high priority. It ranges from building physical structures like sea walls; or cleaning drainage systems to reduce flooding; using risk maps avoid land degradation; planting mangrove forests to reduce saltwater intrusion, introducing climate-resistant crops and livestock, installing early warning systems to broadcast severe weather advisories; to developing resilient livelihood alternatives in addition to traditional fishing or sustainable farming.  