The Archipelago Philippine Ferries Corporation (APFC) is a ferry company based in Muntinlupa, Philippines. It also operates a FastCat line of catamaran ferries, which is the first in the Philippines. APFC's slogan is FerrySafe, FerryFast, FerryConvenient. APFC's mission is to connect the Philippine islands and neighbouring countries by providing safe, fast and convenient ferry transport system for passengers and cargo, designed specifically for Philippine water conditions, and follows international standards. The FastCat is certified and classed by the American Bureau of Shipping, and therefore complies with the latest international safety rules and regulations. (Rey Gamboa, 10-Feb-2016, Philippine Star)
In the early 1990s, Christopher S. Pastrana found the sailing conditions pitiable as he traveled by sea to his father's hometown in Matnog, Sorsogon. He operated Capp Group of Companies, which transported bulk cargo of fertilizers. His company later acquired the Ro-Ro division of bus firm, Philtranco. (Ivy Mendoza, 3-May-2016, Philippine Daily Inquirer)
APFC was incorporated in 2002 and started its vessel modernization program in 2010 under the brand of FastCat headed by Christopher S. Pastrana as CEO, and his wife, Mary Ann Ibuna-Pastrana, as Executive Vice President/Treasurer.
In 2004, the Philippine government invited the firm to be part of the Road-RoRo Terminal System Strong Republic Nautical Highway project of the government.
The fleet of APFC was upgraded in 2010, when it partnered with Australia-based Sea Transport Solutions to acquire 10 RoRo vessels, built by China-based Boni Fair Development, with an extended sub-loan from the Japan International Cooperation Agency (JICA) for the first 10 FastCat vessels.  (Ronnel Domingo, 17-April-2014, Philippine Daily Inquirer)
With the acquisition of the vessels, APFC became the first ferry company in the Philippines to operate catamaran-type RoRo vessels (Asia Business Chanel, 9-October-2015). The firm later joined the modernization of Philippine ports in the east and west sea corridor.  By 2015, APFC's operations in the country were 65% cargo-based and 35% for passenger-based transport. (Ivy Mendoza, 3-May-2016, Philippine Daily Inquirer)
In September 2015, FastCat began operating in Bacolod (Banago) and Iloilo (Lapuz River Wharf). Also, the Negrenses can now travel north to Luzon, through Aklan and Mindoro via island-crossing FastCats. In December 2015, APFC linked Eastern Visayas and Mindanao by opening a route between Liloan (Leyte) and Lipata (Surigao).  In July 2016, APFC linked Negros southward to Mindanao through the Dumaguete-Dapitan route. The firm plans to connect Palawan to Luzon through Bulalacao, Mindoro.
By 2020, routes to countries in Southeast Asia, namely Malaysia and Indonesia, are planned.
Ship Design.  The ships were specifically designed for climate conditions of the Philippine seas.  The ships also have a double hull with 10 watertight compartments, no ballast tanks for stable buoyancy, a fire security system, and navigation and control systems. The top speed of the vessel is 16.5 knots or 29 kms per hour, "faster than most RoRo vessels," according to Christopher Pastrana. The FastCat is designed to carry 275-320 passengers with accommodations for the senior citizens and the disabled, as well as 30-40 passenger cars and 6-7 trucks or buses.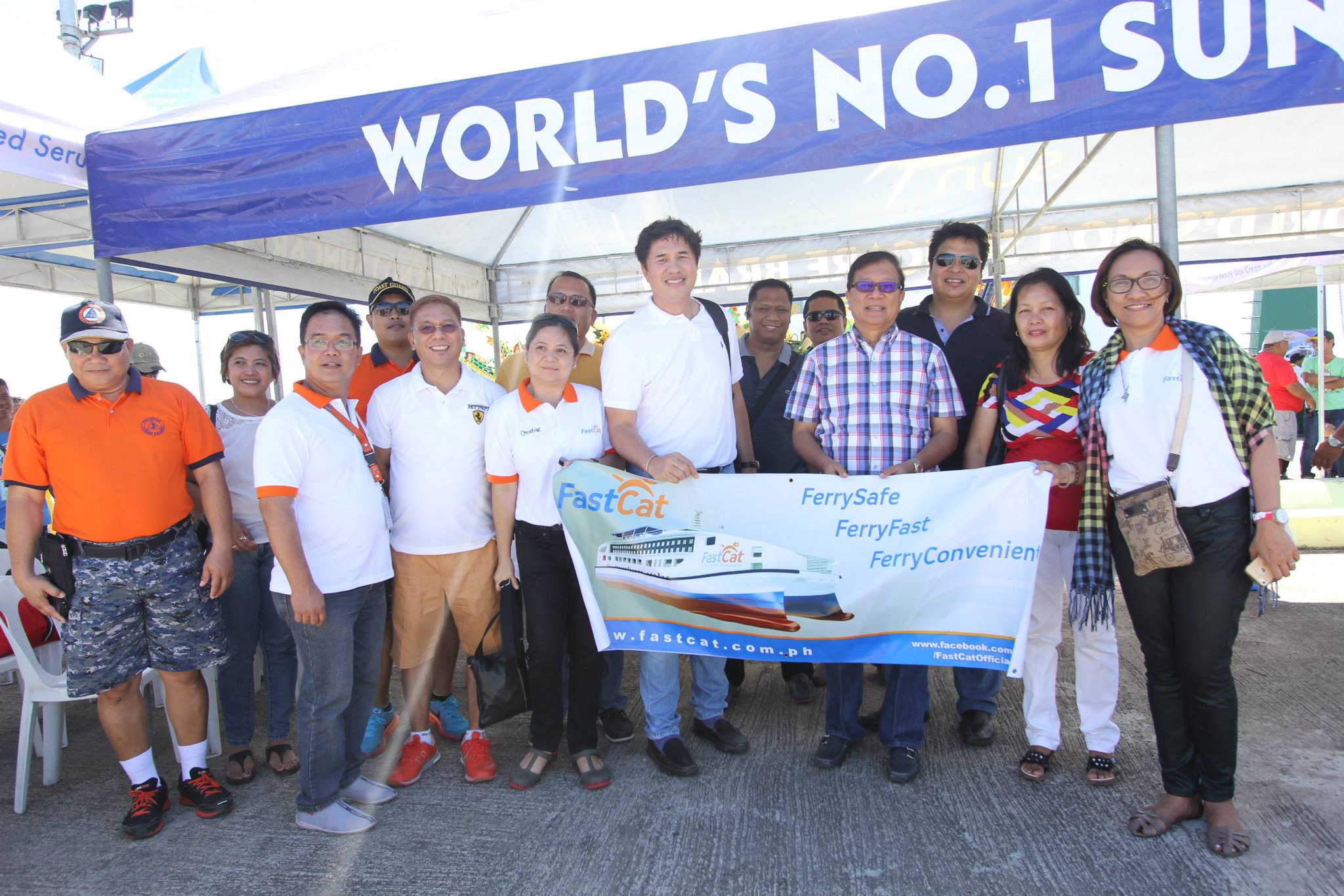 Maritime Safety. With its focus on ensuring passenger safety, welfare and comfort, APFC partnered with Sea Transport Solutions of Australia, the leading designer and builder of mid-speed Ropax/RoRo vessels built for freight vehicle transport with passenger accommodations. This partnership would bring in 10 brand-new custom-made Ropax vessels fitted with world-class amenities and fully compliant with international standards for lifesaving, firefighting, and stability.
A typical RoRo in the Philippines has only one hull. In contrast, the FastCat has two hulls and 10 watertight compartments. Its twin-hulled design makes her more stable since her center of buoyancy and gravity is wider than a mono hull.  The FastCat also keeps the water out of the vessel.  This is why she doesn't have a ballast tank like other RoRo vessels, and this makes her safer, lighter and faster than the rest.  The FastCat uses a state-of-the-art navigation and control system. She has two steering control systems. In case of engine failure, she can shift from automatic to manual steering. Therefore, this catamaran is capable of taking passengers safely to shore.
FastCat has a clearance between the water and hull of three meters. It stands 3 times higher than most RoRo vessels.  If a one-meter wave hits the vessel, water will not get inside the car deck or the hull, mitigating the risk of a major maritime incident. Also, most RoRo vessels only have one engine. In case of emergency, a mono hull single engine RoRo vessel has to stop its voyage and is thus unable to return to port. In contrast, the FastCat has 4 internationally classed and ABS-certified Yanmar engines that power the FastCat, and a twin hull. Therefore, it is better equipped to handle engine emergencies than most RoRo vessels. FastCat is the only ferry compliant with the International Maritime Organization's safe return to port regulation.  All of the state-of-the-art features in the bridge equates to a 100% redundancy on performance and safety, and therefore, minimizes the risk of maritime incidents. (Rey Gamboa, 10-February-2015, Philippine Star)
FastCat Fleet. To serve the inner islands of the Philippines and its neighboring countries, 20 more RoRo vessels would be added to the initial 10 vessels.  With a total of 30 new RoRo vessels built by 2020, annual cargo capacity will increase from 1.5 million tons to 12 million tons, and passengers will increase from 3 million to 10 million. (Daphne Magturo, 7-April-2016, BusinessWorld)
However, EVP-Treasurer Mary Ann Ibuna-Pastrana said, "MARINA data show that even if we complete the 30 vessels, we can only serve 25% of the whole industry," adding that the company would build a shipyard facility, mini-hotels near ports, and a training center for seafarers.
Environmental Sustainability. The FastCat has two hulls and auxiliary engines that provide electricity, but Solar panels and wind turbines also power the FastCat. (Rey Gamboa, 10-February-2015, Philippine Star)
Land and Sea Connectivity.  To help strengthen the Road-RoRo Terminal System-Strong Republic Nautical Highway, the sister bus companies of FastCat namely, Jam Liner and Philtranco, with a combined fleet of 700 buses, gives logistical support to the RoRo operations to enable in-land travel connectivity along their routes:  Manila-Laguna-Batangas-Quezon for Jam Liner; and Manila-Pampanga, Bicol and parts of Visayas and Mindanao for Philtranco.
The first routes of the 10 FastCats include these pairs:
Batangas-Calapan (Mindoro);
Bulalacao (Mindoro)-Caticlan (Aklan);
Matnog (Sorsogon)-San Isidro (Samar);
Bacolod-Iloilo;
Lipata (Surigao)-Liloan (Leyte);
San Carlos (Negros Occidental)-Toledo (Cebu);
Talisay (Cebu)-Tubigon (Bohol);
Jagna (Bohol)-Balingoan (Misamis Oriental); and
Dumaguete-Dapitan.