INTRODUCTION
The Objectives of this Technical Evaluation Briefing is to mitigate the technical risk on the suspected poor sea-keeping performance of SSV TARLAC as manifested in the photograph of said vessel while enroute to the Philippines.
Suspected Patent Defects and Design Flaw need to be corrected (once proven that it exists).  If said deficiencies is present, the operation and maintenance of the ship will incur penalty increase in fuel consumption, higher life cycle cost, and shorter engine life span.
The Combined Operational Effectiveness Investment Appraisal Study (COEIAS) is a comparative evaluation and matching of capabilities on performance versus cost implication to operate and maintain the ship for the next 30 years need to be established.
Patent Design Flaw of the SSV means it has some design weaknesses and imperfection acquired from design stage up to construction of the ship (as evaluated during sea trial performance of the ship).
A.  BACKGROUND OF SSV TARLAC ACQUISITION
Contracted by the Philippine Government with PT PAL of Indonesia under DND Memo No. 2012-060 on 30-October-2013;
Two (2) Units SSV Procurement Project at a cost of Php.3.8B (USD 46M) last 15-November-2014.  Total Cost of two (2) units SSV Php7.6B (USD 96M);
 Said SSV was launched on 17-January 17, 2016 and designated by PN SSV Tarlac with bow number 601;
Design speed is 16 knots; and
 Second unit is under construction in Indonesia.
B.  PHOTOGRAPH OF SSV TARLAC WITH SUSPECTED TREMENDOUS BOW WAVE RESISTANCE AND WAVE TURBULENCE LAYER.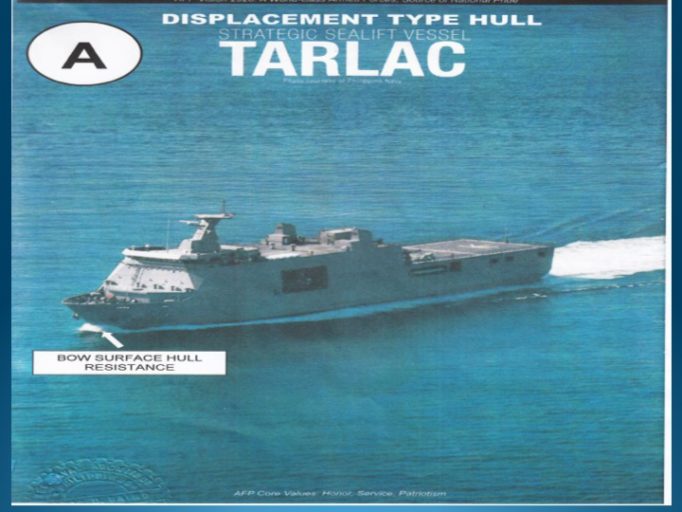 C.  PHOTOGRAPHS OF EIGHT (8) OTHER VESSELS SHOWING EFFICIENT SEA-KEEPING PERFORMANCE.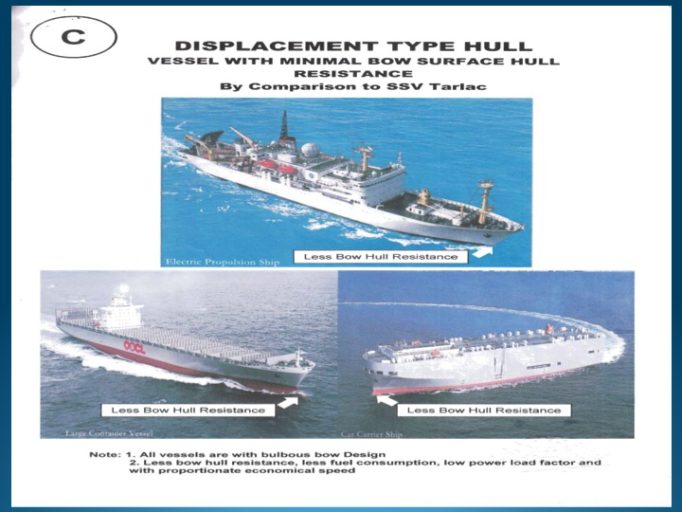 D.  EFFECT OF BOW WAVE RESISTANCE, IMPLICATIONS OF OPERATIONS ON THE ECONOMY, AND LIFECYLE COST OF A SHIP.
Higher bow wave resistance is an indication of high angle of water entry (port/starboard) forward of the bow. This condition is directly proportional to speed and power of the ship. Additional expense of energy needed means extra amount of fuel and a constant stress to marine diesel internal combustion engine in order to overcome "drag" of the ship.
At the time of the photograph, presumably the SSV was in lightship condition with displacement of 7.2K tons (low draft). If the SSV was in full load displacement of 11.7K tons (5-meter draft) there would be greater wetted hull surface in contact with the seawater viscosity that could result in greater frictional resistance added to bow resistance forward of the bow.
During long period of dry-docking intervals of the SSV, said condition will continue to aggravate, and pronounced vibration will be felt exceeding normal frequencies, which is not good for sensitive electronic equipment onboard.
 Because of excessive bow wave resistance, the ship hull will continue to propagate greater than normal values of acoustic signature due to the interaction of the bow to the waves wherein the bow is pushing through the waves, instead of cutting through the water.
E.  IMPORTANCE OF RESISTANCE TANK SHIP TEST MODELING BASIN.
Testing is important during the inspections of the existing vessels as specified in the modernization law or before contract signing. Resistance tank test results must be evaluated in order to predetermine good sea-keeping performance of the vessel in order to conclude that said vessel is a proven design rather than relying on the claim of the ship proponents.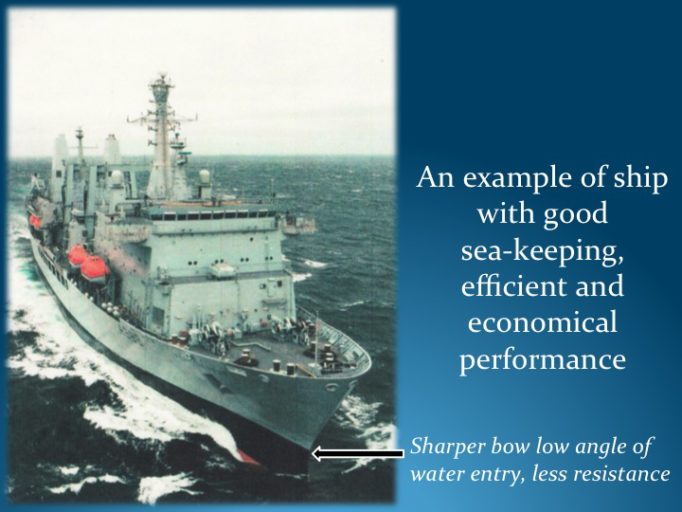 Although there are existing vessels already used by navies of the proponent countries or other countries, the question to ask is: "Are we satisfied with the sea-keeping characteristic?" Without doing this simple evaluation approach, we will end up buying a very expensive ship with poor sea-keeping performance, in essence, a veritable white elephant.
Resistance tank testing is a time honored practiced in ship-building in order to mitigate technical risk of the ship, specially in ensuring good sea-keeping, efficient and economical performance. Tank test results on a ship model is integrated to actual ship design. This practice was devised by a British Naval Architect Mr. William Froude and Rear Admiral David Taylor of the United States Navy (to avoid embarrassing design flaws and lessen a very costly mistake). From said two personalities, what evolved is the International Tank Test Conference (ITTC) Standard, recognized worldwide in ship design.
G.  AFORESAID OBSERVATION COULD HAVE BEEN AVOIDED IF PROPER SELECTION PROCESS WERE DONE DILIGENTLY THROUGH THE FOLLOWING MEASURES (before making a decision in the selection of the winning bidder).
Verification and interpretation of resistance tank test report on ship model of SSV Tarlac original design;
Inspection and observation of the mother ship of SSV Tarlac on the sea-keeping performance in reference to tank test records;
Examination of lines drawings, plans and hydrostatic curves of said vessel design;
Naval architect's recommendations of the combined operation, evaluations, integrations, and appraisal study on the total ship systems of SSV Tarlac;
Technical evaluation of the life cycle cost with reference to the proposed deployment cycle and propulsion operating profile of the ship; and
Technical evaluation of the ship focused on sea-keeping performance, efficiency, operations and life cycle cost, capability as priority, secondary is the inventory of all hardware of the ship.
SUGGESTED FURTHER TEST AND EVALUATION FOR THE SSV TARLAC
Vibration Analysis;
 Hull Resistance, Sinkage, Trim and Wake Profile of the SSV;
Dynamometer Test Result Evaluation and NOX Emission;
Ship Response Amplitude Operation (RAO);
Ship Motion Behavior for Recovery and Launching of helicopter at maximum sea state condition;
Welding and X-ray Test Result of the Hull; and
Stability and Trim Calculation at Light and Full Load Displacement.
H.   To Establish the Combine Operational and Investment Appraisal Study (COEIAS)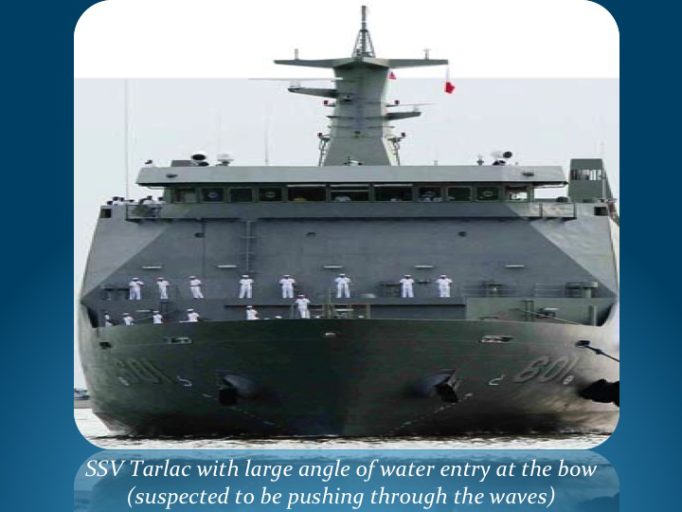 Operational Effectiveness versus cost implication to operate and maintain the ship system for next 25 to 30 years.
References:
TALA The Official Publication of the AFP, AFP Vision 2028.
Ship Model Basin (Wikepedia Encyclopedia).
Bow Waves (Wikepedia Encyclopedia.)
Wave Making Resistance (Wikepedia Encyclopedia).
Fine Bow Wave Entrance (Radiance of the Seas).
Daihatsu Marine Diesel Publication.
Blunt Bow (Wikepedia Encyclopedia).
Dera, UK Ministry of Defence Publication.