The first of two SIGMA Class 10514 Perusak Kawal Rudal (PKR) guided-missile frigates to be built for the Indonesian Navy successfully completed its sea trials last September.  The assessment phase began with seven days of basin trials to ensure that the propulsion and safety systems were fully operational before the vessel made the challenging passage from the PT PAL (Persero) Shipyard in Surabaya, Indonesia to the open waters of the Java Sea.  It went through two weeks of sea trials that included tests of its weapons system, the combat radar, and the sonar system. Noise measurements and pump cavitation observations were also carried out on the ship.
The 105.11-meter, 2,365-ton Sigma 10514 PKR Frigate has a maximum speed of 28 knots and is designed to undertake a wide range of missions in and around the EEZ waters of Indonesia with a crew capacity of up to 201. It can sail up to a range of 5,000 nautical miles at 14 knots, and can endure for 20 days at sea.  The vessel's combined diesel or electric (CODOE) propulsion system has two 10,000 kw MCR (maximum continuous rating) diesel engines, two 1300 kw electric engines, 2 double input/single output gearboxes, and two 3.55m controllable pitch propellers.  Its auxiliary system has 6 generator sets, 1 emergency generator set, 2 redundant distribution chilled water systems, and a firefighting degaussing system. At the aft, is a helicopter hangar and flight deck with astern fuelling capabilities to operate a 10-ton helicopter for both day and night operations.  Amidship are 2 rigid hulled inflatable boats (RHIB).
It has extensive anti-air, anti-surface, anti-submarine, and electronic warfare systems. In addition, the Sigma 10514 PKR Frigate is equipped for maritime security, naval patrol, deterrence, search and rescue, and humanitarian support missions.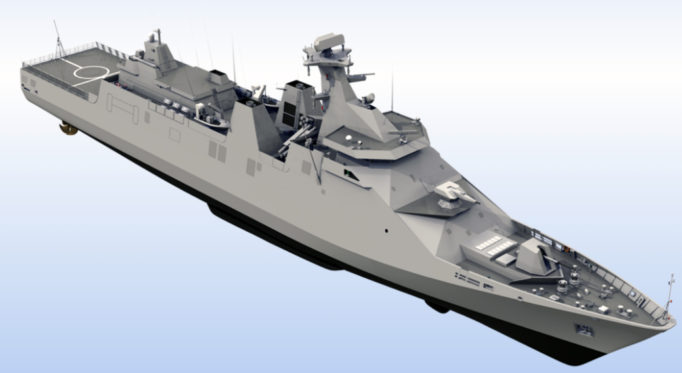 This frigate has a guided-missile weapon suite equipped with: a medium caliber 76mm gun; a close-in weapons system; 2 small caliber guns; 2 SSM launchers; 12 cell vertical launch short-range air defense system (VL SHORADS); 2 triple torpedo launchers; 2 decoys/chaff counter-measures; an electronic counter-measures (ECM); and a Tacticos combat management system designed by Thales, France.
It has a sensor suite equipped with: 3D surveillance, target indication radar, Indication Friend or Foe (IFF); Radar/electro-optical fire control; Hull-mounted sonar; and electronic support measures (ESM). The nautical equipment includes two radars, a global maritime distress and safety system A3 (GMDSS-A3), and a reference gyro.
The two frigate vessels are to be built using a collaborative modular process operating simultaneously at Damen Schelde Naval Shipbuilding (DSNS) in the Netherlands and PT PAL Shipyard in Indonesia.  Each vessel is made up of six modules.
For the first vessel, four of these modules were built at PT PAL.  The other two modules were built and fully tested at DSNS before shipment for final assembly at PT PAL.
The success of the program rested on the two shipyards, DSNS and PT PAL, working well together. The strong work relationship allowed the massive technology-transfer to flow smoothly, in Indonesia and in the Netherlands.
The first Sigma 10514 PKR Frigate is on schedule for delivery to the Indonesian Navy by January 2017 following the completion of three months of crew training.  Meanwhile, work is currently proceeding as arranged in both the Netherlands and Indonesia to complete the second frigate.