Following its 2017 periodic audit, the Maritime Academy of Asia and the Pacific (MAAP) has recently received its ISO 9001:2015 recertification issued by Det Norske Veritas (DNV) and Germanischer Lloyd (GL) or DNV-GL. This second audit focused on effective risk management on quality processes.
MAAP President Vice Admiral Eduardo Ma. R. Santos AFP (Ret) said, "This achievement is the result of MAAP's consistent effort to ensure compliance to national and international standards in the provision of maritime education and training."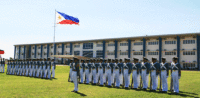 Highlighting the importance of risk management, VADM Santos said, "As an educational institution, we should prepare our students to embrace technological advancements in the shipping industry, and open their minds to the future of unmanned vessels. For our part, we shall enhance our curriculum to include robotics."
VADM Santos hopes that all departments would help implement the Quality Management System based on the new ISO 9001:2015 standards and that the recent certification will be maintained.
In 2016, MAAP made history by becoming the first maritime school in the Philippines to be certified by DNV-GL to ISO 9001:2015 standards. DNV GL is an international certification body and classification society with main expertise in technical assessment, advisory, and risk management.
icon-anchor