Just over a year after it took delivery of the second of two-fast crew supplier (FCS) 3307 Patrol Vessels, the Homeland Integrated Offshore Services Limited (Homeland) of Nigeria has ordered one more of the same class with an option on a second, to be named Guardian 3 and Guardian 4.  Like their two predecessors, the two vessels are being supplied as a turnkey solution. The Damen Group is taking care of delivery and crew training, as well as the design and build. Damen's Local Service Hub in Port Harcourt, Nigeria, will ensure that Damen engineers will handle maintenance, repairs, and any additional support.
Homeland supports international oil companies working in Nigeria's offshore oil and gas fields by providing engineering, procurement, construction, installation and security services. Like the first two vessels, the primary mission of the two new Guardians will be to carry out security patrols for the offshore production companies, as well as occasional transfers of crew and supplies. The 33-metre vessels will be fully compliant with the technical requirements of the production companies, and even exceeding them in the case of the top speed, which at 30 knots is 5 knots faster than the specification. 18 bunks will be fitted for crew and security personnel, who can remain on board for up to 4 weeks. The wheelhouse is bulletproof and additional equipment includes 15 seats for crew transfers, thermal imaging, a diesel powered SOLAS Fast Rescue Craft, and an additional fuel separator to protect the engines and generators from contaminated fuel. Three Caterpillar/MTU engines propel the vessel with a total power of 3500 bKW.
Other basic functions of the vessel are for quick crew supplier needs, maritime safety, search and rescue, and securing economical waters and coastal boundaries.
An integral part of the contract is the total care solution that Damen is providing to Homeland. The Damen Service Hub in Port Harcourt has now been operating for two years and is manned by a technical manager and several specialist engineers, ready to render assistance and undertake a wide range of maintenance and repair tasks in order to minimize downtime. This level of local support is a service that very few other shipyards can offer. For maximum convenience, the vessels will be delivered on their own keel by Damen crews from Singapore to Nigeria and following handover the Homeland crew will each be given a week's training before beginning operations.
Homeland Managing Director Louis Ekere commented, "Both us and our clients have been delighted with the performance of our first two FCS 3307 Patrol Vessels. They remain the most capable craft of their type operating off the coast of Nigeria and we already have charter contracts lined up for both of them. Having the support of the Damen Local Service Hub gives us the utmost confidence that they will consistently operate at full capacity and capability."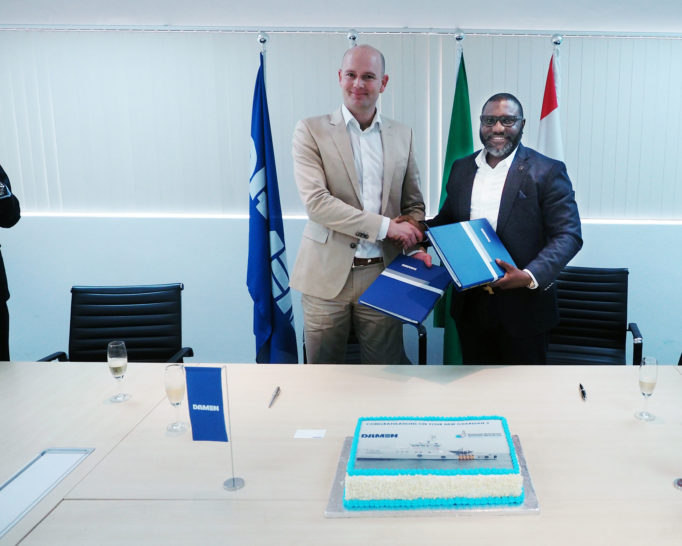 Already under construction as part of Damen's build-for-stock policy, the Guardian 3 is almost complete except for some additional items; and Guardian 4 will be ready within a few months, for delivery in the second quarter of 2017.