During the past two weeks, events on the international scene particularly within the Asia-Pacific arena, provided an uncanny (but welcome) reprise of FVR's younger days, which led this columnist to ask, "Does history really repeat itself?"
In answer, allow us to share with our readers some personal landmarks along life's journey.
Indeed, history does in this particular episode, but hopefully, will not repeat the destruction and suffering brought about by World War II. This past week, the US and North Korea through their heated rhetoric and provocative actions, have dominated the global limelight. The NoKors, on one hand, have deftly shifted the onus of their death-dealing nuclear threats to a likely and accessible military target – the US stronghold of Guam, which is America's westernmost frontier, at the Philippines' doorstep. Even the landmark ASEAN Foreign Ministers' Summit and Meeting of the Dialogue Partners (which includes the heavyweights: US, China, Japan, Russia, and E.U.) were overshadowed by the intensity of the US–NoKor exchange, in spite of the official statement that: "Rising tensions on the Korean peninsula stemming from long-range missile tests by North Korea… 'seriously threaten peace, security and stability in the region and the world. In this regard, we strongly urge the DPRK to immediately comply fully with its obligations under all relevant UN Security Council resolutions,' it said, referring to North Korea by its official name." (Channelnewsasia.com, 05-August-2017).
"HITCH-HIKING" ACROSS THE PACIFIC, 1946. FVR's interest in Guam dates back to July 1946 when he first passed through that war-devastated island on the first leg of a long journey from Manila to New York. He was on his way to the US Military Academy at West Point as the first Filipino cadet after WWII, having won that one coveted "pensionado" (scholarship) slot through competitive exams. That trip took 12 days, with no airlines yet in operation, but only US Air Force bucket-seat C-47s which had to island-hop due to their limited range. Literally, he "hitch-hiked on a space-available basis" on US military cargo planes.
In 1946, Guam was a community of Quonset huts and tent installations, like most US military camps in the Philippines after liberation. Over the years since then, FVR was able to visit or transit through Guam, the last being in June 2005 or 12 years ago as the Guest of Honor at the Philippine Independence Day celebration in Agana (Hagåtña), the capital. Ironically, but fittingly, the US Government in Guam accorded special honor with a handsome monument to eminent Filipinos like Apolinario Mabini and 57 other revolutionary heroes who were exiled thereto in 1901 – having refused to take the oath of allegiance to the US Mabini and others were detained in Agana's Asan seaside district where he wrote La Revolucion Filipina, his seminal work recording Filipino struggles towards independence and nationhood. Much like thousands of Filipino pioneers in Guam and the Marianas, Mabini and his compatriots endured hardships in a foreign land in the middle of the vast Pacific, far away from their loved ones.
UNSINKABLE GUAM: US FORWARD DEFENSE. It was an eye-opener for me to see at that time Guam's visible progress evidenced by new hotels and shopping centers. Amidst the anxieties of global recession, particularly the failure on the mainland of well-known American corporate giants, the people of Guam – even if they had not been spared the impacts of the US meltdown – continued to be cautiously optimistic. Of its then 170,000 population, 45% were of Filipino ancestry who constituted a swing-vote in territorial politics. Two significant factors were cited for their hopeful outlook: (1) ongoing build-up of Guam as the new forward platform for US military power in the Pacific, Indian Ocean, Arabian Gulf, and beyond, as far as Africa; and (2) anticipation of change and hope for a better future represented by the consolidation of US military forces in the Pacific.
Very quietly, with little fanfare, the US was building up Guam as the key to its "forward defense" strategy to project American military power in the Western Pacific and Indian Ocean. Considered an "unsinkable aircraft carrier," as the Subic Naval Base used to be known, Guam hosts the Apra Naval Base and Andersen Air Force Base – now major components of the US Pacific Command (PACOM). Compared to the traditional homeports of the US in California or Hawaii, having a military base on Guam results in much shortened transit times to Asia and beyond. The distance from Guam to Manila is 1,700 miles, which is 2 days sailing for a carrier battle group. But from San Diego, Manila is 9 days away, while from Honolulu, it takes 7 days sailing. Analysts say, the 1,300 miles between North Korea and Guam is well within the range of its latest nuke-armed ICBM. At that time, naval visionary Alfred Thayer Mahan and his disciples (who included Theodore Roosevelt, then Assistant Navy Secretary and future US President) regarded the projection of American power into the Western Pacific and East Asia as crucial to US "forward defense" – and a powerful expression of America's "Manifest Destiny" as a global power. Guam's importance as a strategic outpost was clear to American political leaders and military strategists since the 1890s.
AMERICA'S MANIFEST DESTINY. Mahan started from the assumption that America's Atlantic coast was well-protected by friendly Europeans (British and French), and that East Asia and the inner group of islands enclosing the China Sea – Japan, Taiwan, Philippines, Borneo, and Sumatra – were occupied by peoples alien to the Americans ethnically, culturally, and politically. And so, it was most likely that an invasion of the American mainland would emanate from the Pacific. Mahan and Roosevelt also argued that if America were to overcome the tyranny of distance – and gain the capability to deploy US power westward – vitally needed was a string of coaling stations between California and East Asia where its warships could re-supply. Hence, Washington annexed Midway, Pago-Pago, and other islands. Through Roosevelt's influence, the US acquired Guam and the Philippines in the Treaty of Paris, which ended the Spanish-American War of 1898. And, sure enough, Mahan's forecast of a deadly threat to America coming from the Pacific became reality just 4 decades afterwards. In December 1941, feeling beleaguered, Japan launched a pre-emptive strike against America destroying the Pacific Fleet at Pearl Harbor and occupying the Philippines and Guam, before US forces stopped Japan's drive, short of Midway.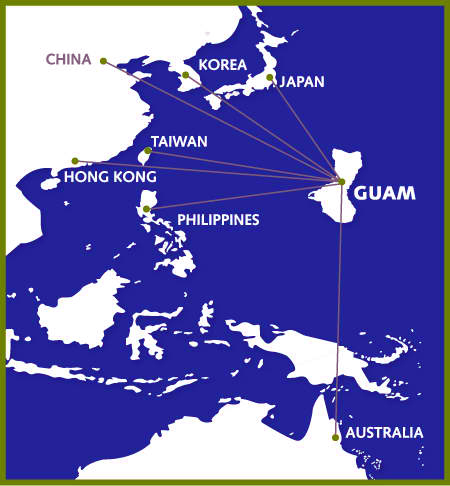 FOCAL POINT OF US POWER. As a result of these developments, Guam's overall value to American deployments towards Asia and the Middle East has tremendously increased. Guam, more than Honolulu, has become America's farther secure base from which to implement its strategy of "Forward Defense" outward from the Pacific. Not only has the island become the site of important bases of US Pacific Command. Washington has almost completed the process of making Guam the linchpin of its overall strategy to insure dominance in the Western Pacific and the Indian Ocean. Already, the build-up in Guam over the next 10 years is being billed as the largest of the US military. Indeed, Guam is extremely critical to any American need to respond quickly to any sizeable natural disaster, civilian emergency or military crisis anywhere in Asia and all the way to East Africa – at a time when the US will continue to be regarded by the global community as the "guardian of freedom."
GEOPOLITICAL SCENARIO, 120 YEARS LATER. Now, more than a century later, Mahan's geopolitical blueprint still serves present-day Pentagon Doctrine. In East Asia, the US clings to air and land bases in South Korea. Moreover, it has existing mutual defense treaties with Japan, South Korea, Thailand, Australia, and Philippines, and maintains a foothold in Singapore. Tensions are still palpable in the Korean Peninsula (where Pyongyang now possesses an ICBM-nuclear capability) even if regional anxieties may have diminished with the warming up between Beijing and Taipei on opposite sides of the Taiwan Straits. In the Indian Ocean and in Southeast Asia's strategic sea lanes with the oil regions of West Asia and the Middle East, the navies of India, China, Japan and Russia have been active in showing their flags. Today, it is eyeball-to-eyeball between US President Donald Trump and Nokor Leader Kim Jong-Un. With such a heightened state of tension, it won't be easy for either side of the entire Asia-Pacific for that matter to return back to a state of normalcy.
NORTH KOREA BLINKS (Last of Two Parts)
"North Korean leader Kim Jong-un said yesterday he would hold off on a planned missile strike near Guam, but warned the highly provocative move would go ahead in the event of further 'reckless actions' by Washington" (Agence France Presse, 16-August-2017)
Eight years ago, North Korea's test on 25 May 2009 of a nuclear weapon, five times more powerful than its first-ever nuke-bomb (exploded last October 2006), threw the UN, US, Japan, China and other countries — not the least South Korea — into a state of high alert and tension.
As reported by the Associated Press (27-May-2009): "THE UN SECURITY COUNCIL SAID IT WAS A 'CLEAR VIOLATION' OF THE 2006 RESOLUTION BANNING NORTH KOREA FROM CONDUCTING NUCLEAR DEVELOPMENT, AND THAT IT WOULD WORK IMMEDIATELY TO TAKE STRONGER MEASURES."
US TO DEFEND ASIA. Accordingly, on 30-May-2009 in Singapore, US Defense Secretary Robert Gates warned at the Annual Summit of Defense/Security Ministers that a nuclear-armed North Korea would be unacceptable, while China called for calm, even as Japan and Russia expressed justifiable alarm.
Gates said NoKor's defiant acts could spark an arms race with serious consequences for Asia. "Our goal is complete and verifiable denuclearization of the Korean peninsula, and we will not accept North Korea as a nuclear state," Gates declared. Reiterating the US commitment to defend Asian partners from attack, he added any transfer of nuclear weapons/materiel to other countries or "nonstate entities" (terrorists) would be a grave threat to the US and its allies.
Coming from that timely security summit in Singapore, Secretary Gates pushed for united action among China, Japan, Russia, South Korea, and the US to "punish" North Korea, and work out alternative measures in case cooperative efforts as called for by the UN fell short.
At the epicenter of the threats and tensions is Seoul, its surrounding industrial, financial, and transportation hubs – which were within the bombardment range of 12,000 hostile NoKor artillery pieces. On top of the intensified challenges from the north were two crisis situations converging upon beleaguered South Korea back in 2009, namely:
Economic recession that plunged the country, the world's 15th largest exporter, into its deepest decline since the Korean War; and
Effective abrogation by North Korea of the July 1953 armistice on the Korean Peninsula which guaranteed a ceasefire between the Communist forces and UN allies.
AUGUST 2017 – NORTH KOREA BLINKS. "Some analysts suggested NoKor Leader Kim's above-cited comments reported by Agence France Presse this week opened a possible path to de-escalating a growing crisis fuelled by bellicose words between US President Donald Trump and the North Korean leadership."
Their recent exchanges were focused on a North Korean threat to fire a volley of four missiles over Japan toward the US territory of Guam (which hosts a number of strategic military bases). The North's official KCNA news agency said Kim was briefed on the "plan for an enveloping fire at Guam" during his inspection on 14-August-2017 of the NoKor Strategic Force Command in charge of his missile units.
Although Kim said he would want to "watch a little more the foolish and stupid conduct of the Yankees" before executing any order to blast South Korea and Guam, experts claim that NoKor actually blinked and moved one step backward. The North Korean announcement prompted subdued celebrations in Guam, where officials described themselves as "almost ecstatic that Kim Jong-Un has backed off."
The heightened tension had again sparked global alarm, with world leaders including Chinese President Xi Jinping urging calm on both sides. South Korean President Moon Jae-In had also weighed in, by saying that Seoul would avoid a second Korean War at all costs.
Tensions have been mounting since the north tested two intercontinental ballistic missiles last month, which appeared to bring much of the US within range.
DFA: THE MICIC INITIATIVE. Today, we live in an age of increased mobility with over 232 million international migrants worldwide. When conflicts or natural disasters erupt, migrants require special focused assistance. Launched in 2014, the Migrants in Countries in Crisis (MICIC) initiative co-chaired by the US and the Philippines developed the guidelines to protect migrants in countries experiencing conflict or natural disasters.
Thus, the Department of Foreign Affairs (DFA) and Department of Labor and Employment (DOLE) of the Philippine Government jointly adopted a crisis alert system, which today serves as the basis for emergency repatriation and deployment restrictions. On consultation with the Department of Health (DOH), DFA may impose crisis alert levels in times of pandemics and other medical hazards. In accordance with the established protocols on international relations, these Crisis Alert Levels, with their respective indicators and deployment status, are:
ALERT LEVEL 1 (Precautionary Phase): Issued when there are valid signs of internal disturbance, instability, and/or external threat to the host country. Filipinos are alerted to take necessary precautions.
ALERT LEVEL 2 (Restriction Phase): Issued if there are threats to the life, security and property of Filipinos arising from internal disturbance, instability, and/external threat. Filipinos are instructed to restrict non-essential movements, avoid public places, and prepare for evacuation. DOLE only allows returning Overseas Filipino Workers (OFWs), with existing employment contracts, or a group of OFWs under special circumstances, to go back to their host country.
ALERT LEVEL 3 (Voluntary Repatriation): Issued when violent disturbances or external aggression occur in a limited area. Overseas Filipinos are enjoined to return to the Philippines upon employers', or if not possible, government's expense. DOLE shall impose absolute deployment ban.
ALERT LEVEL 4 (Mandatory Repatriation): Issued when there is a large-scale internal conflict or full-blown external attack. The Philippine Government shall undertake mandatory evacuation procedures.
The Philippine Consulate in Agana (Hagåtña) headed by ConGen Marciano de Borja had placed its personnel on an "Alert Level 1" (precautionaly phase), as if for a storm warning in the Pacific.
DEFENSE READINESS CONDITIONS. On the other hand, the military in Guam and also the territorial civilian government could be subject to various readiness condition (DEFCON) levels, namely:
DEFCON 1 – COCKED PISTOL; Nuclear war imminent; maximum readiness.
DEFCON 2 – FAST PACE; Next step to nuclear war; Armed Forces ready to deploy and engage in less than 6 hours.
DEFCON 3 – ROUND HOUSE; Increase in force readiness above that required for normal readiness; Air Force ready to mobilize in 15 minutes.
DEFCON 4 – DOUBLE TAKE; Increased intelligence watch and strengthened security measures; above normal readiness.
DEFCON 5 – FADE OUT; Lowest state of readiness; Normal readiness.
LOCKED AND LOADED: PRESIDENT TRUMP. Last 13-August-2017, Reuters reported: "US President Donald Trump, vacationing at his Bedminster, New Jersey Golf Resort, again referred to North Korea's leader in his latest bellicose remarks. 'Military solutions are now fully in place, locked and loaded, should North Korea act unwisely.' 'Hopefully Kim Jong-Un will find another path!' Trump wrote on Twitter.
The term 'locked and loaded,' popularized in the 1949 war film 'Sands of Iwo Jima' starring American actor John Wayne, refers to preparations for shooting a gun. In basic military parlance, "locked and loaded," means one's machine gun, bazooka, rifle or pistol is "ready to fire."
In remarks to reporters after meeting with US Secretary of State Rex Tillerson and US Ambassador to the United Nations Nikky Haley, Trump said the situation with North Korea was 'very dangerous' and it will not continue.
The Pentagon said the US and South Korea would proceed as planned with a joint military exercise in 10 days, an action sure to further antagonize North Korea. China, Russia and Germany for their part, voiced dismay at the war of words between Pyongyang and Washington. Trump, who had pressed China to help rein in its ally North Korea, spoke with Chinese President Xi Jinping by phone on 12-August-2017, with the two leaders reiterating their commitment to denuclearize the Korean Peninsula, and agreed North Korea must stop its provocative behavior (White House Statement). Trump and Xi also agreed that the recent adoption of a United Nations Security Council Resolution imposing additional sanctions on North Korea was an important step towards achieving peace a nd stability on the peninsula.
China's state media said Xi told Trump the North Korean Nuclear issue required a peaceful resolution through talks and urged the 'relevant side' to exercise restraint, avoiding words or actions that raise tension.
North Korea indeed blinked, but "saved face" by again warning of future blast
  
Please send any comments to fvr@rpdev.org. Copies of articles are available at www.rpdev.org.