Last month, PRS successfully passed with flying colors (with only 1 minor observation) the strict assessment and certification audit of ABS QE to the latest 2015 version of ISO9001 of PRS' Integrated Management System.
The first and leading Filipino classification society has again trailblazed in establishing an Integrated Management System compliant to ISO 9001:2015 (quality management standard), ISO 18001 (OHSAS management standard), ISO 14001 (environmental management standard) and the Recognized Organization Code (IMO's RO Code). It is now the first local classification society to achieve said certification from an IACS member certification body.
ABS Quality Evaluations Inc. (or ABS QE) is part of the American Bureau of Shipping (ABS) Group, one of the founding members of the International Association of Classification Societies (IACS).
This achievement paves the way for PRS to be certified very soon to all four (4) internationally-adopted management system standards adopted by all members of IACS and brings PRS at par with any IACS member.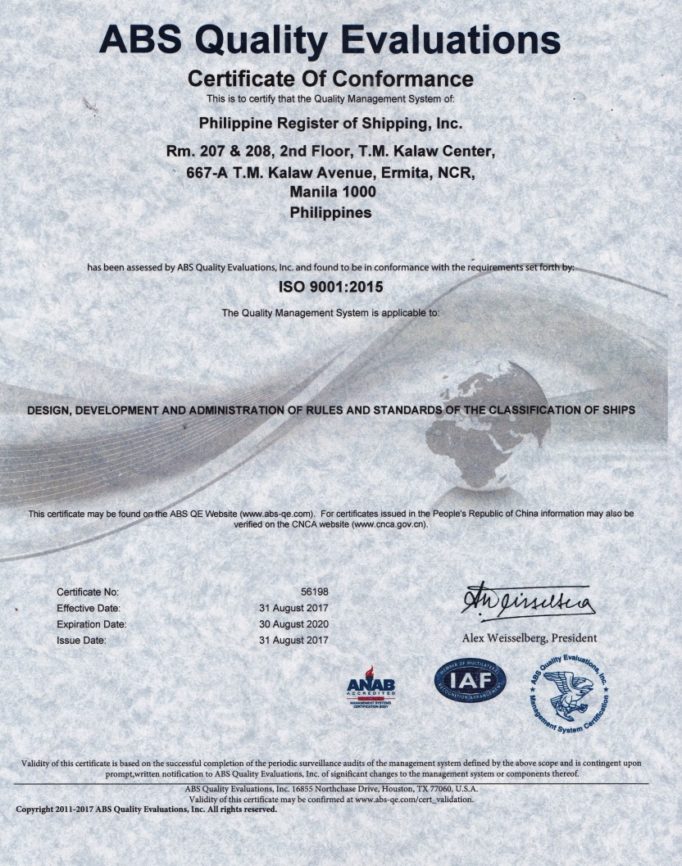 For more information on this topic, please contact:
Ms. Leyka Dillo – PR Executive
Mobile No.:+63917 3057026/ +6399 499981246; Tel No: +632 3101588
E-mail: info@prsclass.org
2nd Floor T. .M Kalaw center, T. M. Kalaw Avenue, Ermita, Manila; Website: www.prsclass.org